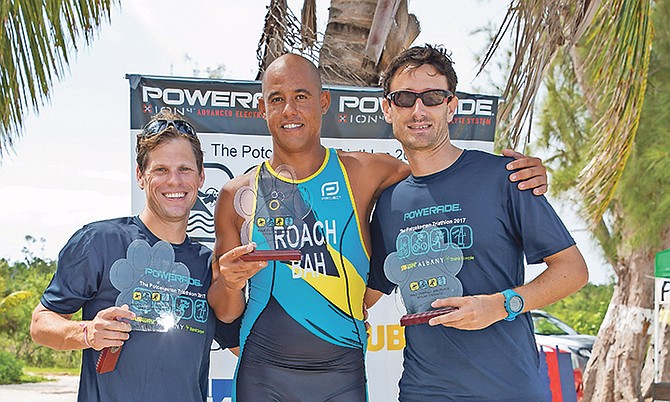 By BRENT STUBBS
Senior Sports Reporter
bstubbs@tribunemedia.net
Cameron Roach, using his past experience as one of the Bahamas' top swimmers, surged to the front of the pack and held on for the victory in the sprint segment of the fifth Powerade Potcakeman Triathlon.
Beating out Simon Lowe in the 750-metre swim, 13-mile bike and three-mile run on a course around Jaws Beach, Roach was followed by a host of other winners, including Julia Salas, the female winner and Jorge Marcos Aballi and Anna Zywiolek, the male and female champions of the Olympic segment of the 1,500m swim, 26-mile bike and six-mile run.
Roach also got to watch as his nephew Noah Roach and his daughter Kami Roach emerged as the winners of the boys' and girls' 10-12 age group respectively.
Sarah Kennedy, who teamed up with Roach and a few others to form a committee for the event, said it has been five wonderful years that they have seen the event grow by leaps and bounds.
"We have grown each year both through the number of participants and supporters. What a great turnout today," she said.
"This year's races were particularly competitive and extremely exciting as we had the fastest athletes spread over both distances.We are also really proud as always of those people competing in their first triathlon and we hope they get the bug and come back again next year."
Powerade was this year's presenting sponsor and they were joined by Subway, Purina Dog Chow, Albany, Think Simple, Higgs & Johnson, KPMG, Odyssey Aviation, JS Johnson, The Pet Food Institute, Daminos Sotheby's International Realty, Happy Pets Animal Hospital, Heineken and Golden Wings Charter.
Through the efforts of all involved, Kennedy said the committee was once again able to raise over $30,000 for their charity of choice - Baark.
No charity performance
from Roach
While this was a battle for the Bahamian bragging rights, Roach was able to build a comfortable lead coming out of the water (10:58) compared to Lowe's (12:40).
But as they progressed, Lowe closed the gap on the bike (36:16-36:48) on Roach and made it an exciting finish in the run (21:49-22:40).
However, Roach was able to hold in the end for the win in 1:11.22 with Lowe trailing in 1:11.56. Mark Dietrich had to settle for third in 1:12.29.
"I had a really good swim, coming out strong. I was able to hold my lead coming out of the bike ride, but the run was very challenging with the trail and the hills," Roach said.
"I did cramp up a little, but I was able to hold and defend my title. I think Simon Lowe and Mark Dietrich gave each other a good push. There were a couple guys in the Olympic run who were also there. I hope one day we can all come together and do the same distance."
But the 38-year-old Roach said until they do, he will enjoy his back-to-back sprint title.
Birthday present
for Salas
With her 38th birthday today, Salas wanted to make this one special one to celebrate. After teaming up with her 76-year-old father-in-law for last place last year in the relay segment, Salas showed that she still had what it took to be the sprint champion again.
Her time of 1:15.44 (13.19 in the swim, 34.45 on the bike and 24.36 in the run) pushed her well ahead of the rest of the field. Her nearest rival was Elizabeth Shaddock in 1:12.14. Katrina Montgomery was third in 1:28.32.
"I just love this event. I look forward to it every year," said the Canadian by birth who now resides here with her husband for the past 15 years operating a number of businesses. "The competition was good. The girls were strong. The guys were stronger."
Cuban cigar for Aballi
In what was regarded as the most difficult segment of the event, Aballi proved that the third time was the charm as he was the best man on the day, taking the Olympic male title to Cuba with his time of 2:18.12.
Except for the run, Aballi had the best time of all of the top competitors as he out-lasted Simone Bertoldo (2:24.45) and Gustavo Mery (2:28.48), who had the fastest time in the run.
"This year, I had my bike and it's my first time doing the Olympic segment," Aballi said. "I've been working on it and I have been training really hard.
"Sometimes I don't get to train as hard as I want because of work, but I am glad that I was able to pull it off. I didn't get the time I wanted, but I feel as if I train a little harder, I can get it. But I feel very good about my performance."
No comparison for Zywiolek
As the lone female competitor entered in the longer version of the event, Zywiolek had to compete against the clock and her male counterparts.
The 37-year-old Poland native now residing in the Bahamas had a time of 2:38.29.
"I didn't have to race and chase anybody," Zywiolek said. "I was nice and steady out there. I just finished the Half Marathon Triathlon in Chattanooga, Tennessee with Julie Salas, so that helped me out tremendously.
"The organizers here are doing an excellent job and think it's getting better. For me it's more a fun event, but I hope to be back next year."
Noah reign supreme
After falling short in his first two outings, Noah Roach made sure that this one wasn't going to slip away from him too as he crossed the line in 22.23 in the Puppy Tri 200m swim, 5k bike and 1k run over Quinn Hewison (23.04) and Benjamin Dupuch (23.24).
"I think it was good. I went out there and I did my best," said the 12-year-old Roach, son of former swimmer Dorian Roach and nephew of Cameron Roach. "I really wanted this one and I got it."
Sweep for Roach
Kami Roach added another title for her family as she out-distanced her rivals to take the girls 10-12 division in 25.34. Isabelle Zatarain was second in 28.29 and Mikayla Blacquiere got third in 29.16.
"It was much better than last year," said 11-year-old Roach, who regained the crown she relinquished last year. "I did much better in the run this year."
Future stars shined
Alexander Heinzl won the boys 1-9 Splash N Dash 100m swim and 1k run in 7:23. Patrick Tordion was second in 8:25 and Luke Kennedy was third in 8:34.
Yasmin Kennedy was the girls' winner in 8:24 with Erin Pritchard second in 8:32 and Emily Dupuch third in 9:00.
Helping each other
In the sprint male relay, 'No Girls Allowed' team of Georgios Karots (15:42 swim), Richard Horton (41:45 bike) and Charles Gibson (26:07 run) won in 1:24.69.
The Sea Dragons' team of Madison Haines (11.41 swim), Lila Nottage (49:00 bike) and Lily Izmirlian (28.55 run) won the female segment in 1:31.56.
Liz Parkinson (11:41 swim), John Cox (37:58 bike) and Jason Major (21.14 run) teamed up as 'Tri To Keep Up' to win the mixed team title in 1:11.59.
The Olympic sprint relay saw the 'Rusty Nuts' team of Dorian Roach (25:09 swim), Lee Farmer (1:03.04 bike) and Mackey Williams (38:26 run) take the men's title in 2:08.19.
The 'Cut & Paste' team of Katherine Bower (30:29 swim), Cintia Schutt (1:17.49 bike) and Katherine Donohue (52.29 run) won the women's crown in 2:42.19.
'Running On Dunkin' team of Giovanni Eneas (22:40 swim), Kelly Kramp (1:06.01 bike) and Nicholas Thorpe (43:14 run) won the mixed title in 2:13.11.