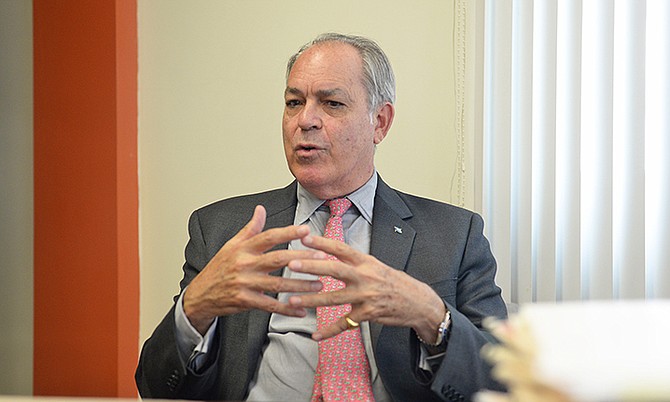 By RICARDO WELLS
Tribune Staff Reporter
rwells@tribunemedia.net
NO child should be denied education because of their status, according to Immigration Minister Brent Symonette, who yesterday implored all school administrators to "admit" students and contact his office for any needed clarification.
Mr Symonette, whose ministerial portfolio also includes financial services, trade and industry, said no government should prohibit any student from maintaining their education due to an "apparent immigration issue."
He indicated resources have been allocated in his ministry to handle all applications in the process of equipping school age children with the adequate permits needed to enrol and attend school.
"Principals should admit these students to school so that they can maintain their education," he told The Tribune on Sunday. "If there is a difficulty getting a belonger's permit or whatever permit it is that they need, the administrators should email me so that we can regularise those persons' status, so that they can attend school."
He added: "But children should not be denied access to education because of an apparent immigration issue. We are making sure that persons who apply, receive the appropriate belonger's permit so that they can attend school.
"There is a department that deals with this issue specifically. I am being made to believe that we are doing a very good job at it, but if persons have slipped through the cracks, we urge them to contact the Immigration Department and/or myself."
Last week The Tribune reported about a Haitian mother who said she was considering placing her 11-year-old special needs son in the care of the state after he was allegedly denied access to school for three consecutive years because of the country's immigration policy.
Jan Pierre, 36, told The Tribune the grim prospect for her son Watson was one of only two options at her disposal, having exhausted attempts to obtain the required documentation for her child because of her own status.
The second would be to send him to Haiti to live with his father, a place he's never been and a setback that would drastically inhibit his ability to apply for Bahamian citizenship.
The 2014 policy mandates that every person living in the Bahamas has a passport of their nationality with proof to legally reside in this country, among other restrictions, like the requirement for every foreign person enrolled in schools, including children born in the Bahamas to immigrants, to have a student permit.
Although the policy was introduced in November 2014, the restrictions did not come into effect until the Fall 2015 school semester.
Then Immigration Minister Fred Mitchell explained the school permit rule would help the government keep track of who works and lives in the Bahamas and who attends schools here.
When asked if the Minnis administration had attempted to address any of the issues surrounding the controversial policy, Mr Symonette yesterday said the Minnis administration was working to address several key aspects of the policy behind the scenes.
However, he indicated that in the interim, no child should be forced outside of the system.
Mr Symonette admitted that he was unsure of exactly how many children were being affected by the policy, pointing to the lack of computerised systems in the Department of Immigration.
Nonetheless, Mr Symonette said that all was being done to "improve" the processes surrounding the issue.
"One of the great problems we have with immigration is that things are not computerised, so we have no way of knowing the number of applicants. But over the year, most of those persons should have gotten their permits," he said.
"So it can't be that many. Once we know about them, we will deal with them."
Rights Bahamas has repeatedly raised concerns over the harmful, dehumanising conditions created by the 2014 immigration policy, which activists saw as an attempt to legitimise inhumane state practices against unregularised or undocumented persons.
In 2015, while out of office, Mr Symonette warned that making it harder for children of immigrants to get an education could create a slippery slope that results in a myriad of long-term social problems for Bahamians. He was appointed minister of immigration after the 2017 general election, a post he held in the previous Ingraham administration.