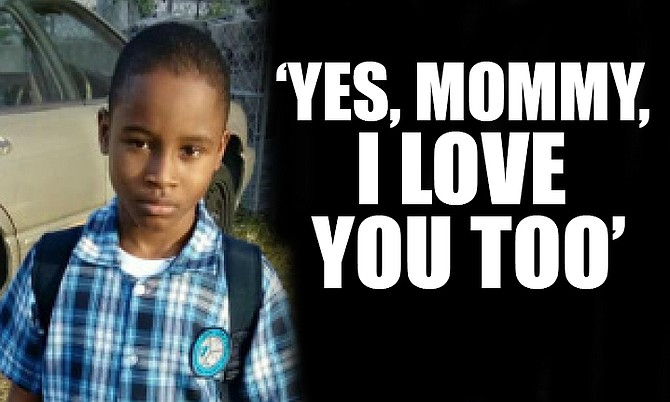 By SANCHESKA DORSETT
Tribune Staff Reporter
sdorsett@tribunemedia.net
THE pregnant mother of the boy who was shot dead in his home by a stray bullet as he did his homework said she would have never imagined having to bury her son as she prepares to give birth.
Kendera Woodside's eight-year-old son Eugene died in hospital shortly after he was shot while studying with his older sister at their Chippingham home Monday evening.
In an interview with The Tribune moments after identifying her son's body at the Princess Margaret Hospital morgue, Mrs Woodside described how she crawled on the floor as bullets penetrated her home, in a failed effort to shield her boy.
Mrs Woodside, who is currently seven months pregnant with her third child, said the pain she feels losing her only son is "indescribable" and "unimaginable". She said her only peace comes from knowing she was able to tell him "I love you" one last time before he "closed his eyes for good".
Eugene was shot once in the chest while practising his spelling words with his sister Monday evening.
The third grade student at Albury Sales Primary was rushed to hospital in a private vehicle, but died a short time after his arrival.
A man, the intended victim believed to be in his twenties, also died in hospital after the double shooting. He has been identified by a source as Dennis Moss.
The brazen daytime attack in the densely populated area came after the shooter chased his intended target, running between houses in the Rosebud Street area as he fired several shots, one of which penetrated a wooden structure and its sheetrock, striking the child.
The killings took the country's murder count to105 for the year, according to The Tribune's records. 
Mrs Woodside, a hair stylist, described her son as a "quiet" but "loving and friendly" child. She said she still can't believe that her son is gone and as she prepares to give birth to one child, she has to prepare to bury another. 
"He was in the room learning his words with his sister when we heard the shots ring out," Mrs Woodside recalled as tears rolled down her face.
"The next thing we knew, he was on the floor with a bullet in his chest that stopped in his back. Me, him, his sister and his dad was in the house at the time. I crept over to him when I heard the shots. He was sitting down and I saw him moving kind of funny then I noticed the blood coming from his chest and he screamed to my daughter "help me." I held him and I said "Baby, you know mommy loves you right?" and he said "Yes, mommy, I love you too" and then he closed his eyes. We rushed him to the hospital but by the time we got there he had already stopped breathing. We couldn't get there in time, even with a traffic officer helping us get there. This isn't real. I am pregnant with one and just lose the next. He was my baby, he was my only son."
Police have no motive for the shooting and no suspects in custody.
Newly elected Member of Parliament for Fort Charlotte Mark Humes said crime in the area has got increasingly worse over the years and he plans to implement new initiatives to give the residents "peace of mind."
"Anytime you have any sort of killing it is a concern in particular where innocent persons fall victim like the eight year old," he said.
"Fort Charlotte is typically a peaceful area, we never had this type of violence in this area. It seems like all of a sudden in the past year and a half the crime got out of control. It is extremely concerning for the residents and for myself. So I have been meeting with community leaders to organise and reach out to young men in the area in an effort to assist them with issues that may be plaguing them."
The boy's death comes more than a month after an eight-month-old boy was killed in his Bain and Grants Town home. His mother and father were also shot during that attack but survived the incident.
Anyone with information on any of these homicides is asked to contact police at 911 or 919, the Central Detective Unit at 502-9991 or Crime Stoppers anonymously at 328-TIPS.
Investigations continue.