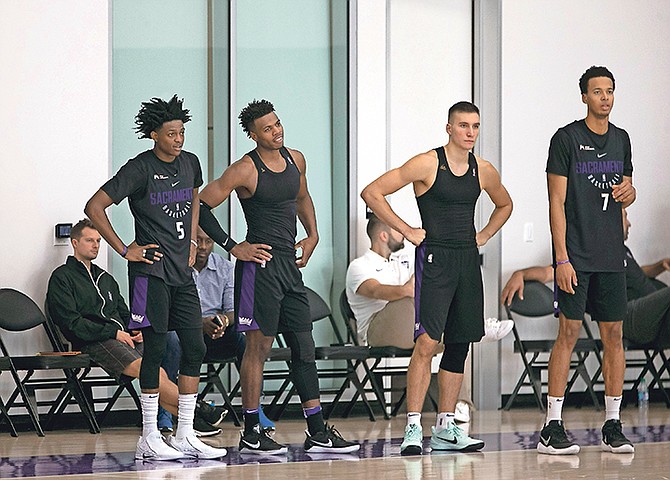 By RENALDO DORSETT
Tribune Sports Reporter
rdorsett@tribunemedia.net
One of the immediate takeaways from Sacramento Kings training camp has been the depth on the wing.
With several players capable of playing the shooting guard spot, presumed incumbent starter Buddy Hield could find himself in a position battle over the course of the week-long camp and the preseason, according to Kings head coach Dave Joerger.
Hield, seven-year veteran Garrett Temple, 20-year veteran Vince Carter and newcomer Bogdan Bogdanovic are all listed at the shooting guard spot. Minutes at the position are also expected to be shared between second-year wing Malachi Richardson, rookie Justin Jackson and veteran combo guard George Hill.
"Bogdan, this is my first opportunity to see him so I'm looking forward to that. Obviously, I know what Garret can do, and then having Buddy for half of a season, there are three guys there competing for two spots there," Joerger said. "Everybody goes out there and plays with a pure heart, gets better every day and we'll figure it out from there. We also may want to slide George Hill over there and play some shooting guard, more so for De' Aaron Fox to continue to develop."
Hield started 18 of 25 games last year since the midseason trade to the Kings. During his tenure he averaged 15.1 points, 4.1 rebounds, 1.8 assists, 0.8 steals, 2.4 three-pointers made and 2.1 turnovers per game with the Kings. He shot 48 per cent from the field, 43 per cent from three-point territory, 81 per cent from the foul line and was named to the NBA All-Rookie First Team.
Temple was limited to 65 games but started 21 of those contests, many of which came before Hield joined the roster.
"We're competing for jobs and guys are going to bring their all. It's not going to come easy. You want to compete hard and earn your spot, that's what we're here for. Someone's going to win it and I'm planning on being a guy that's going to win a spot out here," Hield said.
"The past month I've been working, gone full tilt. I had a busy summer, did a lot of work but I've been working and grinding and getting better. I'm excited to play against these guys and learn and compete, see how far they can test you and just be better."
Joerger said the team's depth will be an asset as the season goes on but is just one of the themes in training camp this week. "It helps, as rosters change throughout the course of the season, in game you make quick decisions and you can get the results in 12 seconds, but you also have to make decisions on which direction your team is going that can go on for two months so it does take time," he said. "How do you play all of these guys, how you decide which ones to play and which ones to sit. We're just asking our guys, I'm going to give you a role, but your role can change. There may be times when I grab a guy and I have to tell him, I'm going to have to keep you out tonight and get a look at some other guys, I might have to do that for two weeks at a time and we also know that injuries happen so to be able to make that pivot or if a guy beats a guy out it changes things."
Sacramento will open the preseason at home against the San Antonio Spurs on October 2 and they travel to face the Spurs on the road just days later on October 6. They get their first opportunity for a back-to-back when they face the Los Angeles Lakers and Portland Trailblazers on October 8-9 respectively. Those games are followed by a matchup with the Los Angeles Clippers October 12 and the preseason concludes October 13 against the defending champion Golden State Warriors.
The Kings open the regular season Wednesday, October 18 against the Houston Rockets.
"It's not so much about the Xs and Os so much as it is about how we go about our business," Joerger said. "What we do want to be about now? What do we want to be about four months from now? What do we want to be about three years from now? That needs to be the same so that there's consistency."