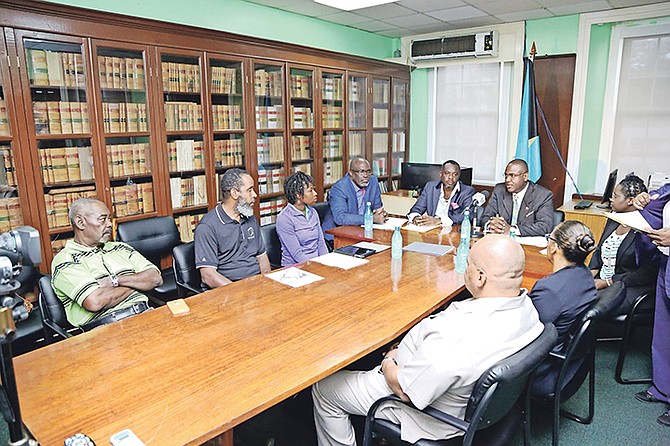 By RICARDO WELLS
Tribune Staff Reporter
rwells@tribunemedia.net
POLITICAL foes in the Pinewood constituency launched a collaborative effort on Wednesday to establish the Pinewood Foundation and that community's first festival event.
Reuben Rahming, who secured more than half the votes cast in Pinewood during the May 10 general election, called the foundation's strategy "a sustainable one," adding that it will engage the community in its own self-development as it looks to bring awareness to the plight of residents.
"We do this for the good of Pinewood," the Free National Movement MP said during a press conference in the House of Assembly's Majority Room. "Together we can do all things, but divided we cannot live a sustainable life."
The foundation is the brainchild of former independent candidate Alecia Hart; former Democratic National Alliance candidate Lincoln Bain and former People's Movement candidate Glen Rolle. It has received the backing and support of Mr Rahming and former area MP Khaalis Rolle.

Mr Rahming said he viewed the establishment of a foundation as an opportunity to tap into the greatness of every candidate that vied for the constituency of Pinewood.
He suggested that those who are playing integral roles in the constituency, through the foundation, would become examples to youth in the area, who he said were becoming victims of violence at an alarming rate.
Mr Rahming added that unity among the one-time political foes, could "bring together" the striving community.
"We have more in common than what we have apart. And if we can accentuate positive, we can definitely eliminate the negative; from crime, poverty, vice, divisiveness, and we can find the things that make us our brother's keepers and make the difference here today," he said.
"So, I am glad and I am pleased that we are wholeheartedly linked and focused, not only as an example in Pinewood, but as an example to our nation that we can come together.
"We will come together and through the formation of this foundation and through the establishment of a perpetual festival where we celebrate ourselves, you will begin to see the marked difference which we seek in our society today," Mr Rahming added.
Meanwhile, Mr Bain called yesterday's launch evidence of political maturity in the Bahamas, adding that each candidate has shown a great level of love and respect for the area.
"Now you can see the genuineness of all our political campaigns," he said. "They were not to be just members of Parliament. It was not to be in politics. It was for Pinewood. All of us said that in our campaigns and now you see that we are showing that by our actions. By their fruits, you will know them."
Mr Bain is one of three former candidates who reside in the Pinewood constituency.
He said the unity now on display in the area can go a long way to "turning things around" for residents.
"Because Pinewood is united, nothing will be impossible for us. They say it is impossible to fix a flooding problem, now that Pinewood is united, nothing will be impossible for us. The flooding problem can be fixed now that Pinewood is united," Mr Bain said.
"They say there is a crime problem in Pinewood, now nothing is impossible for us. There are no political enemies in Pinewood. Pinewood is united. Politics is over, it is time for us to assist our community and that is the purpose we are here today.
"This is true leadership. This is historic leadership. And we call on all communities, all communities; all constituencies in The Bahamas to follow this model, to follow this leadership and do the same.
"We have a country to save. Stop sitting back and criticising and throwing jeers at your political enemies. Roll up your sleeves and get to work. Let's get to work together and let's save our communities. We will do it one community at a time. We are going to start in Pinewood Gardens and we ask you to follow us," Mr Bain added.
For her part, Ms Hart called it a joy to partner with the former candidates to ensure the best for the community.
Ms Hart, dubbed the soul of the project, said there was an urgent need for funding in Pinewood. However, she said current community models were not effectively working to aid in the progression and development of the area.
"The establishment of the foundation ensures that we have structure in place. It ensures that there is a government or body that handles funding, called a development board."
Ms Hart added: "We, all five of us, will not have access and decision-making powers. The board will basically be in charge.
"So as it pertains to the foundation, it is our desire to encourage not only local persons or local businesses to contribute, or individuals; but we encourage international foundations around the globe to give us grants, to give us funding because in Pinewood we need it."
In addition to its first community meeting scheduled for November 18 on the community park, the Pinewood Foundation aims to increase community involvement through volunteerism, networking and participation.
The foundation has already announced a partnership with Fourteenth Clubs Golf Academy, which is headed by Bahamian golf standout Georgette Rolle.