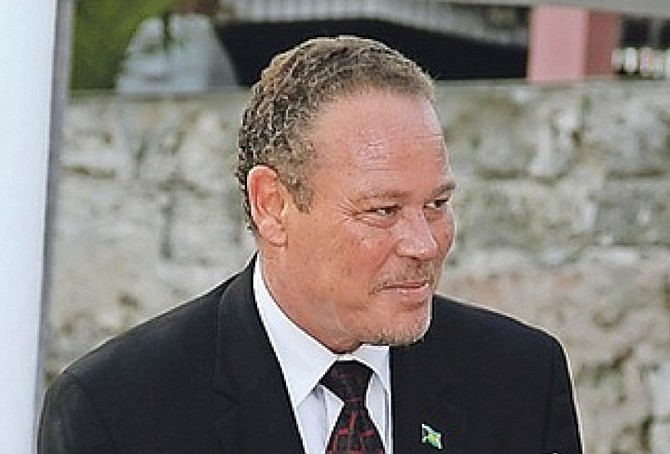 By NEIL HARTNELL
Tribune Business Editor
nhartnell@tribunemedia.net
The Attorney General yesterday slammed deficiencies in this nation's anti-money laundering regime as "entirely unacceptable", warning they had put the Bahamas "in great danger".
Carl Bethel told Tribune Business he had been so alarmed by the Caribbean Financial Action Task Force's (CFATF) draft report on the Bahamas that he instructed his staff to begin work on addressing the flaws from early June 2017.
Emphasising that corrective action was "absolutely critical" to protect the Bahamian financial services industry's reputation and competitiveness, Mr Bethel blasted the former Christie administration for failing to tackle known weaknesses with the necessary urgency.
He added that the Minnis administration was preparing new Proceeds of Crime and Financial Transaction Reporting Acts to deal with the most pressing concerns, which he described as the Bahamas' 'low' effectiveness in six out of 11 anti-money laundering/counter terrorism financing categories.
Tribune Business revealed on Monday how the CFATF's July 2017 Mutual Evaluation Report (MER), an assessment of this nation's defences against financial crime, identified numerous legal and practical deficiencies in the regime.
Mr Bethel yesterday acknowledged the potential jeopardy facing the financial services industry and wider economy if these gaps were not closed immediately, especially since the CFATF is the regional affiliate of the body that 'blacklisted' the Bahamas in 2000.
"I don't need to get a negative Mutual Evaluation Report to see the danger," the Attorney General told Tribune Business. "As soon as I saw the initial report, I and all my staff saw the great danger it could put the Bahamas in if not addressed.
"From my point of view, as I told my officials, we in the Bahamas, we don't slunk, we don't drag our feet; we do what has to be done to preserve the name of the jurisdiction, preserve its integrity, and preserve its ability to compete. Because so long as we can compete, we will win. Let's do what has to be done to fix this mess bequeathed to us, if you will."
Mr Bethel acknowledged that "a bit of work was ongoing before I came in", prior to the May 10 general election, but he argued that the former Christie administration had failed to give the necessary reforms due priority and attention.
Disclosing that he had the "impression things were just plodding along", he told Tribune Business: "I don't want to criticise others. but I think more urgency was needed. I hope to give it that urgency. In my view, it was not being pushed as well as it should have been.
"My colleagues in Cabinet are concerned; we all are. We are intent on doing what needs to be done to defend the Bahamas' status as an international financial services provider,."
The Attorney General said that when he saw the CFATF's initial report, he asked Attorney General's Office staff: "What have you been doing for five years?
"It was entirely unacceptable for me for the Bahamas to be rated non-compliant in many of its international obligations. When I read the initial report, I said it was unacceptable and is not going to be allowed to continue. I said there's absolutely no way I'm going to accept it.
"I started [work] before the report was published, and will not stop until we are fully compliant in all our international obligations. We take our responsibilities very seriously."
Mr Bethel said he and his office had begun work on legislative amendments to correct the deficiencies in the first week of June, less than a month after taking office.
"We are addressing them systematically, point by point," he said of the CFATF's findings. The Attorney General said priority focus was being given to the six categories where the Bahamas' anti-money laundering/counter terror financing regime was rated as having 'low' effectiveness.
The CFATF, in summarising its findings on the Bahamas, said: "The main deficiencies in technical compliance are in targeted financial sanctions for terrorist financing and financing of proliferation; understanding and assessing national money laundering/terror financing risks; and developing anti-money laundering/counter terror financing national strategies, and transparency and beneficial ownership of legal persons and arrangements.
"Significant weaknesses in effectiveness are in the areas of money laundering/terror financing confiscations, investigations, prosecutions and convictions; the identification of national money laundering/terror financing risks; and development of appropriate anti-money laundering/counter terror financing strategies and proliferation financing financial sanctions."
The chief corrective tool is "the whole new Proceeds of Crime Act that we're about to table", Mr Bethel said, suggesting that the legislation just required Cabinet approval before it moved forward.
"We met a draft at the bottom of the file, with large areas blacked out, and large areas 'subject to policy' that had not been addressed in eight months," he said of what the former government had left.
"I took that, went with it and, in a matter of weeks, had finished it. The Proceeds of Crime Act is ready to go. We have to discuss it in Cabinet, go through the Bill, so we're all aware of it. That process will take place in a week or so."
The Government is also preparing a revised Financial Transactions Reporting Act, which Mr Bethel described as "a cutting edge Bill" that attempts to place the Bahamas 'ahead of the curve' by addressing the international community's existing - and future - concerns.
With cyber crime, human trafficking and nuclear weapons proliferation all set to come within the definition of money laundering/terror financing offences, Mr Bethel said the Bill had "set a new category" by identifying these risks and addressing them ahead of evolving global standards.
Mr Bethel said the new Financial Transactions Reporting Act's passage through Parliament would take longer, as it had to be sent out to the financial services industry and other private sector players for consultation.
"There are changes foreshadowed that might affect portions of industries that prior to this might not have been a focus for money laundering and terrorism financing," he explained.
Mr Bethel said a risk-based approach to dealing with money laundering, terror financing and other forms of financial crime was also being demanded from the Bahamas.
"What they wanted from the Bahamas, and are not seeing internationally, is a mandate for risk-based financial supervision," Mr Bethel told Tribune Business. "They want the regulators to educate licensees and providers in methods to assess accounts or transactions that may be suspicious on a risk basis.
"You look at a particular transaction: Is it a high risk money laundering situation, or does it have the potential for terrorism financing? Does it fit patterns that we've seen elsewhere, rather than say: 'That's John, someone's given him $10 million. We know him, and can just wave it off'.
"The idea is to develop a risk-based process, so that when 2 + 2 comes across the desk, it makes 4."