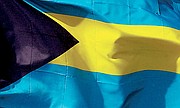 By RENALDO DORSETT
Tribune Sports Reporter
rdorsett@tribunemedia.net
The Bahamas' CARIFTA Swim team has been the most dominant in the region for the past four years and is on pace to add another meet title to their resumé.
The Bahamas posted 197 points and won 12 medals on day one to lead the 18-team field at the CARIFTA Swimming Championships at the National Aquatic Centre in Kingston, Jamaica.
Guadeloupe is second with 170 points, Jamaica is third with 158 points, Trinidad and Tobago fourth with 133 points and the Cayman Islands rounded out the top five with 126.50 points.
The opening day of competition for the Bahamas was highlighted by one new meet record and multiple medals from Nigel Forbes and Lamar Taylor.
Izaak Bastian set a new CARIFTA record in the Boys 15-17 200m Breaststroke and surpassed the previous mark by nearly three seconds. Bastian won gold in 2:17.78 secs, besting the time of 2:20.18 secs set by Jordy Groters in 2014. The Bahamas won their second medal in the race with Tyler Russell's bronze medal swim in 2:27.00 secs.
Forbes won the first medal for team Bahamas with his gold in the Boys 11-12 200m Breast in a time of 2:43.39 secs.
Lily Higgs and Victoria Russell followed with the top spots in the Girls 15-17 race. Higgs won gold in 2:40.21 secs while Russell won silver in 2:42.25 secs.
In the 50m Backstroke, Lamar Taylor kept the medal haul going for team Bahamas with a gold medal in the Boys 13-14 race. Taylor finished well ahead of the field in 28.38 secs.
Davante Carey won silver in the Boys 15-17 race in 27.04 secs.
Forbes won his second gold medal of the night with a first-place finish in the Boys 11-12 100m Butterfly. His time of 1:04.09 was nearly a full second ahead of second place finisher Zarek Wilson of Trinidad and Tobago.
Taylor added another medal when he took second in the Boys 13-14 with his time of 1:00.24 secs.
Team Bahamas secured another three medals in the 400m Freestyle relays.
The Boys 11-12 took silver in 4:12.73 secs and the Boys 13-14 also won silver in 3:50.63 secs. The Boys 15-17 team closed out the night with a gold medal swim in 3:36.07 secs.
In their role as hosts in 2017, the Bahamas captured the CARIFTA Swimming Championships for the third time in four years.
The 36-member team completed the four-day meet at the Betty Kelly-Kenning Aquatic Centre with a total of 799.5 points. They finished 137.5 points ahead of second place finisher and defending champion Guadeloupe, who scored 662. The Cayman Islands finished third with 622.5 points, Trinidad and Tobago scored 615 and Barbados rounded out the top five with 556 points.