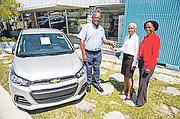 Calling all Atlantic Medical clients and the general public at large to participate and join in on the fun! Register today and be eligible for a chance to win a brand new 2018 car!
On Saturday, April 21, Atlantic Medical Insurance marks 20 years of hosting its annual Fun Run/Walk in both Nassau and Freeport. This year's event will be held in honour of the late Alan Peacock, CEO of the Colonial Group of Companies, an avid sportsman who also shared a passion for this event.
Organisers said the Fun Run/Walk is one of the top events for those who are looking for an exciting way to practice good fitness habits with the entire family.
The event also contribute to good causes. Over the past 20 years, the Cancer Society and the Diabetic Association have benefitted from the proceeds of the race, and this year we will be no different.
"This year's Fun Run/Walk promises to be the best ever," said Annastasia Francis, director of Atlantic Medical Insurance. "To mark this significant milestone and in honour of our late CEO, a brand new 2018 car has been added to the list of already impressive prizes offered at the event."
All participants that register for the Nassau event will be eligible for a chance to win a car. This special prize drawing will take place on the day of the Fun Run/Walk and participants must be present in order to win.
Also new this year is the AMI Insta-IG competition.
Donovan Ingraham, AMI wellness coordinator and event chairman explained: "This feature is targeted towards our younger participants. We encourage everyone between the ages of 12 and 19 to rise and shine. Come out to the event, participate and compete for a special prize. You will be required to upload photos to Instagram of you and your family participating in the 20th Annual Atlantic Medical Fun Run/Walk. The photograph most liked on Instagram will win a special prize. #Riseandshine everyone and win with Atlantic Medical."
The annual Fun Run/Walk will be held simultaneously in Nassau and Freeport on April 21. The event will begin at 6.30am, starting at Montagu Beach in Nassau and at the Jasmine Corporate Centre in Freeport. Runners and walkers are invited to participate.
As usual, categories will include Under 15 along with Over 65. Register now at Atlantic Medical, 2nd Terrace and Collins Avenue in Nassau; call 326-8191 or e-mail AMINassau.FunWalk@atlantichouse.com.bs, and the Jasmine Corporate Centre in Freeport; call 351-3960 or e-mail AMIFreeport.FunWalk@atlantichouse.com.bs.