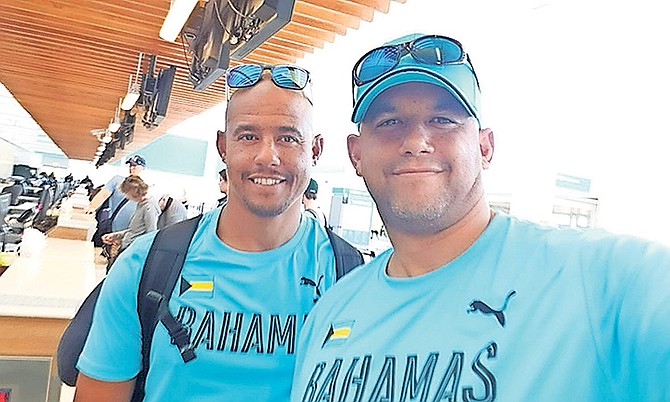 By BRENT STUBBS
Senior Sports Reporter
bstubbs@tribunemedia.net
GOLD COAST, Australia -- Brothers Cameron and Dorian Roach are ready to embrace history when they compete in the first triathlon competition for the Bahamas at the XXI Commonwealth Games.
The brothers, coming from a strong background in swimming, will carry the Bahamian flag at the Southport Broadwater Parklands as Cameron gets matched against 36 other competitors in the swim, bike and run event, while Dorian will be on the sidelines as his coach cheering him on.
After taking what was a "long travel to get here," Cameron Roach said it has been worth the trip so far because everybody has been nice and the atmosphere has been remarkable.
"It's a lot more than what I expected to see after not being at a meet of this calibre since I competed in swimming," said Cameron Roach, who first started competing in the triple discipline event on the international stage in 2015 at the Ironman Arizona and Ironman Cozumel. "It's been a great experience so far. We're just trying to get some rest and get rid of this jet lag so I will be ready to compete on Thursday.
"I want to be able to perform and represent the country well. But at the same time, I want to send the message back home to the younger kids competing in triathlon that this is an opportunity. By me competing, it sends a message that if I can compete at the Commonwealth Games, one of them or others can have that opportunity in the future."
Dorian Roach said his 39-year-old brother Cameron Roach is as ready as he could be to go on Thursday.
"I think his swim is going to be good, so I'm not worried about that," he said. "We have put together our game plan and so we're just waiting on him to compete. Most of the competitors are competing on the international triathlon circuit, so it might be hard to win a medal, but we feel if he can improve on his best time he can beat some people."
Dorian Roach said the goal is for Cameron to get out in the swim in the top pack and get out of the transition as quickly as he can to get on the bike. The St Andrew's School and Broward College graduate is looking to surpass his personal best of one hour and eight seconds.
Cameron Roach will need to complete the swim (the 750-metre course) and get through the transition in under 10 minutes, cycle the 20-kilometre bike ride for no more than 30 minutes or under, including the transition and to complete the 5k run in about 20 minutes.
"That's our goal for him," he stated.
Relying on his strength in swimming, Cameron Roach said he believes he has improved tremendously on the bike and in the run, so that should help him out tremendously.
"We did a practice course here, circled it out," he said.
"The water was a little choppy, which worked to my strength.
"I'm fine with those conditions. Hopefully I can get out in the swim and give myself some time on the bike and the run so that I can be ready to compete. I think I've done everything that I need to do to be ready. "This is the most training that I've ever done to prepare for any competition," he said. "It's all about getting sufficient rest, stretching and getting some more massages and I should be ready to go."
Not only are they going to make history in triathlon, but Cameron and Dorian will produce the first brother sibling competing for Team Bahamas in a major international event.
"It's awesome. I'm very happy for him. He's worked so hard and I'm excited because I get to tell him what to do, not that I haven't been telling him that for the past 39 years, but now in an official capacity," said Dorian Roach, who also represented the Bahamas in swimming before he retired and is now concentrating on helping his younger brother in their new found sport.
For Cameron, there's nothing like having someone in your corner who knows all of his strengths and weaknesses.
"With certain comfort levels, it's good to have a family member who knows you so well," he insisted. "It's good that I won't have to worry about worrying about all the other aspects to get me in the event to compete. I can just concentrate on my event and hopefully I can go out there and compete to the best of my ability."