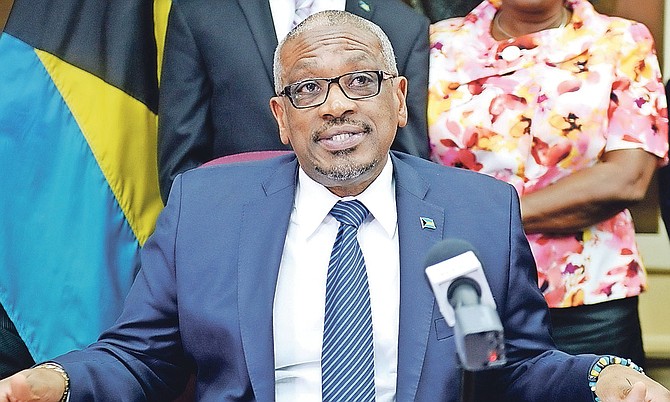 By RASHAD ROLLE
Tribune Staff Reporter
rrolle@tribunemedia.net
PRIME Minister Dr Hubert Minnis was silent yesterday when faced with questions about why he has not appointed a substantive chief justice even as one of his own Cabinet ministers has criticised him over his failure to assign someone to that role. 
Dr Minnis appointed Senior Supreme Court Justice Stephen Isaacs as acting chief justice last December. Critics have said it is unusual to appoint someone acting chief justice while the substantive position is unfilled.
The prime minister was asked about the issue outside the Free National Movement headquarters, where a memorial was held for former Cabinet minister Theresa Moxey-Ingraham. 
"Only thing I plan on doing right now is getting home and go do my stew fish," he joked as he left the area. He has never publicly addressed the issue. Earlier, he said the memorial was not the appropriate setting to discuss political issues. 
Yesterday, his Press Secretary Anthony Newbold told The Tribune Dr Minnis "is not going to make any further statements on the appointment at this time." 
Among those who have been critical of Dr Minnis are several Queen's Counsel, including Wayne Munroe, Maurice Glinton and Alfred Sears. The Tribune understands some justices of the Supreme Court have also grumbled about the matter.
Attorney General Carl Bethel, however, has said appointing an acting chief justice while the substantive position is not filled is not unprecedented. Under a Progressive Liberal Party administration, Sir Philip Telford Georges was appointed acting chief justice initially, later serving in that role from 1984 to 1989, he added.  
Multiple sources have said Dr Minnis wants to appoint Mr Bethel as chief justice, although some in the Minnis administration have dismissed this as "speculation." Among those who believe it is true is former Free National Movement Chairman Darron Cash who yesterday urged the prime minister to address the matter.
"I have tremendous confidence in Carl Bethel," Mr Cash said yesterday. "I think he is one of the nation's finest and the extent to which the prime minister wants to appoint him is even further grounds for him to speak publicly to this matter. I'm concerned that we are in such a highly charged political environment that it is imperative for the prime minister to speak and make a strong case if he wants to appoint a sitting member of the executive to the post."
Mr Cash had mixed views on critical comments State Minister for Legal Affairs Elsworth Johnson gave The Nassau Guardian about the prime minister's delay in making the appointment.
"In our system of government, a prime minister selects his Cabinet and each minister serves at his pleasure," he said yesterday. "As PM, he is entitled to have ‎his ministers share their advice in private rather than publicly. When a minister chooses to advise the prime minister publicly – directly or indirectly – he is committing a breach of protocol, an act for which he should be prepared to bear some price."
However, he added: "Elsworth Johnson is a serious person and it seems very clear to me that when he speaks on matters of national importance, as a matter of routine his statements are well considered. I was always impressed that when he served as president of the Bar Association before he entered front-line politics, he was an extremely strong advocate for the independence of the judiciary and for the government of the day to conduct its affairs and its relations with the judiciary in such a way as not to impugn the character or cross the line in terms of recognising the separation of powers. It also seems to me that for him as a minister (of state) for legal affairs no less, to speak publicly about this matter must suggest that it is a matter that has weighed heavily on his consciousness and it is a matter that warrants him breaking rank with his ministerial colleagues. I do believe that it is unacceptable and inexcusable that a substantive chief justice has not been appointed and clearly the (junior) minister for legal affairs feels the same way. In my view this is a matter for which someone who believes in the Constitution, in the actual and appearance of judicial independence ought to speak out on the vacancy."