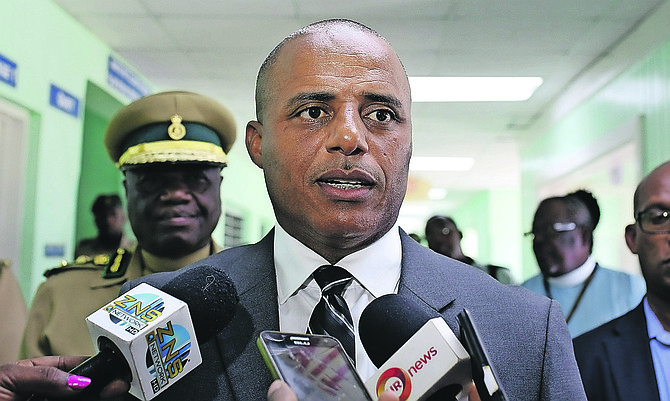 By AVA TURNQUEST
Tribune Chief Reporter
aturnquest@tribunemedia.net
NATIONAL Security Minister Marvin Dames yesterday expressed disgust over viral video recordings purported to have been taken of inmates at the Bahamas Department of Corrections.
While officials have not completed investigations into the authenticity of the videos, Mr Dames said the clips posted to social media were unsurprising given longstanding challenges of corruption within law enforcement agencies.
He stressed these incidents were the result of the greed of a small minority, which would be flushed out of the system as the government works to radically transform standards for recruitment, training, development and succession planning.
"It disgusts me," he told The Tribune, "because I know the vast majority of correctional officers and law enforcement officers are hardworking, this angers them. The vast majority are totally against this kind of nonsense and its stuff like this that disgusts me. They don't care for this or the persons responsible, but we will seek them out, expose them, and clean out these agencies one incident at a time."
Four videos were shared on Facebook, one of which shows only the hands of the men breaking down what appears to be a package of marijuana. Another video shows two men making hand gestures and making profane statements, while another depicts four men in a smoky cell with a portable speaker.
Mr Dames said: "I'm not surprised, from the time I was serving in the force this was one of the challenges we faced. That's the challenges of corruption within our law enforcement agencies. While we continue to say the vast majority of our officers are decent, hardworking individuals unfortunately there is still a small element, as small as it may be, but it exists and these are the challenges we face.
"I can tell you the times we had to go into the prison and execute raids on these cells and find everything from blunt instruments to drugs to cell phones. We know that these things exist and unfortunately they're making their way into prisons with the assistance of prison staff who have no respect for the oath that they would have taken, and no respect for the vast majority of their colleagues who come to work on a daily basis and work hard to keep us all safe."
"This is especially sad, and an unfortunate situation we sometime find ourselves," he continued.
"This is nothing new but I can assure you one thing," Mr Dames said, "we're working very hard as a government, we're working very hard with leadership of these agencies to bring about a level of transformation that will make incidents like these go away.
He added: "This is why we have to focus on recruitment, the way we recruit our officers. We're going through psychological testing, all of the individuals a part of this upcoming prison officers entry, are tested. And we're doing a battery of other testing to ensure we get the best out there."