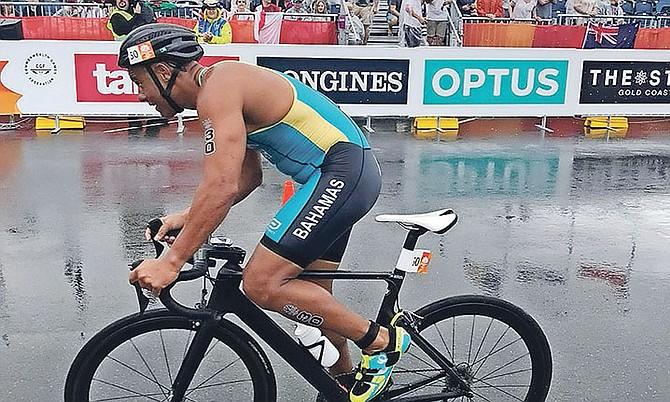 By BRENT STUBBS
Senior Sports Reporter
bstubbs@tribunemedia.net
GOLD COAST, Australia -- Cameron Roach will take a lot away from his debut here in the men's triathlon at the XXI Commonwealth Games.
In the swim, bike and run combined event, Roach was 33rd overall out of a field of 36 competitors yesterday at the Southport Broadwater Parklands in one hour, 11 minutes and 19 seconds.
He said the trip here was more about getting the exposure to inspire others at home to take the sport to the next level.
"It was really an amazing feeling to be able to line up against some of the best competitors in the world," said Roach, who spent a lot of time in the Games Village rubbing shoulders with some of the elite competitors. "It was amazing to see the level of competition. I didn't have my best day, but I didn't have my worst day. "The level of professional versus the level of amateur is just amazing. I have a lot of admiration for those guys.
"Hopefully in the next couple years I can step up my game and be a little more competitive. But it was a great experience. I'm really happy to be here, I'm really happy I did this event. I learned so much. I can go home and share my knowledge with some of the kids and adults that I coach. It was great."
The gruelling race started in the pouring rain. But by the time it finished, Roach knew that he was taking on more than just mother nature. He came out of the 750 metres or one-lap race in 31st position in a time of 11:19 minutes and completed the transition on his bike at 12:07. On the 20.0 kilometre four-lap race, Roach pedaled 47.42 mins to drop one spot to 32nd with his transition time to the run at 48:12. That left just the 5.0 km two-lap race that saw Roach dropped as Jamaica's Philip McCatty passed him to take the 32nd position.
"It was an amazing experience. It was a long journey here. I think that had a little to do with my performance," Roach lamented. "But it's over. there's no regrets, I enjoyed it. I hope I get to go on another trip like this soon."
As he dissected his performance in the race, Roach said the swim was good, at least thee first half I felt really good and my tempo was strong," he said. "Then as we got into it in the first 350m at the first buoy, I felt my body. I think some lactic acid was building up. I don't think I went out too hard. I just don't think my body is adjusted to be here.
"But it felt good. I felt strong. I thought I was going to be able to keep up with the first or second pack, unfortunately, I wasn't. I didn't have my best swim. The water was pretty choppy, but that's no excuse because I'm a pretty strong swimmer. Unfortunately, I didn't have the best start in the swim, so in transiting to the bike, I was on the course solo and I had to work really hard and that took a lot out of you. On the run, I was just holding, but I didn't have enough left in the tank at the end."
When he returns home, Roach said if he wants to compete with the elite competitors, he have a lot more work to do, but he would really like to pass on as much of his knowledge to the younger competitors so that he can help to groom the next Bahamian to compete in the triathlon in a global competition now that the barrier has been broken.
His older brother and coach Dorian Roach said his younger sibling did the best that he could under the circumstances.
"He was a little tired for sure because I don't think he was fully recovered from the trip here," said Roach, referring to the jet lag after the two day journey from the Bahamas. "I could tell right away from the swim. His swim was a little slower than usual and after that he couldn't get into the pack on the bike, so he was basically riding the bike by himself, which is definitely a disadvantage.
"But you know, I'm proud of him. I think we could have timed the travel a little better, but he did a good job."
The elder Roach said the younger Roach will have to concentrate a little more on the swim because it showed that if he wasn't in the pack at the start, it was too late for him to come back on the bike and in the run.
"Cameron is a strong swimmer, but it shows that obviously he still have ways to go," h pointed out. "If you can not keep up with the swim, then your race is done. So we need to concentrate more on swim and look at the timing of our travel. He wanted to do this, He worked hard for it. Hopefully this will provide a path way for the younger guys to follow him."
Once he recuperates from the race, the younger Roach said he will now use his time here until April 10 to take in some of the sights of Australia and go out and cheer on the other Bahamians in action.
On the sidelines watching was physiotherapist Cordero Bonamy. As a former track and field athlete, he said it's not easy to compete in any stage of competition.
"The conditions wasn't the best, but they persevered," said Bonamy, who is a part of Team Bahamas' medical staff. "I think Cameron went out there and he gave it his all. That's all we could ask for. When I saw that, I had to commend him for a job well done. No matter what you placed, he finished it off."
And in the process, Roach survived without any major injury that Bonamy or either Dr Rickey Davis or Cottrice Robinson had to work on.
Cameron Roach wasn't the first Bahamian to compete in a triathlon at the Commonwealth Games. That distinction belongs to Grand Bahamian David Bell, who represented the Bahamas in 2002 in Manchester, England where he was 22nd out of a field of 34 competitors.
Bell also represented the Bahamas at the Pan Am Games in Manitoba in 1999.