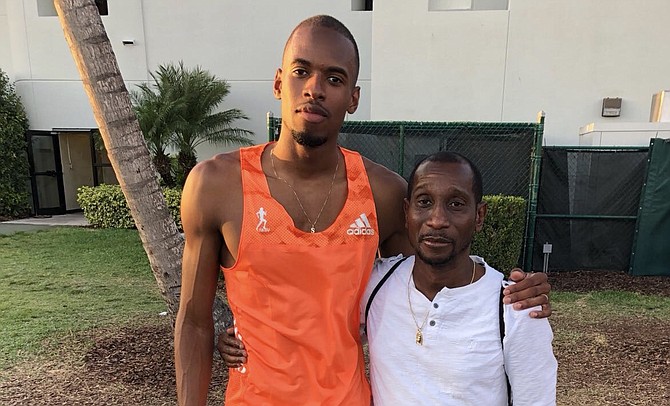 By BRENT STUBBS
Senior Sports Reporter
bstubbs@tribunemedia,.net
GOLD Coast, Australia: He's not here as a member of Team Bahamas for the XXI Commonwealth Games, but Steven Gardiner made his own headlines in Miami, Florida on Saturday.
One of two Bahamians competing at the 2018 Miami Hurricanes Alumni at the University of Miami, Gardiner erased Commonwealth Games participant Michael Mathieu's previous national record of 20.16 seconds that he set on May 6, 2012 at the Grand Prix Caixa Governo do Pera, Belem, Brazil.
In becoming the first Bahamian to break the 20-second barrier, Gardiner ran an impressive 19.75 to add his name in the record books next to the 400 record that he also holds.
"I feel very excited about it," said Gardiner, who had to skip the trip to Australia as he remained in the United States to get his green card. "It's a new national record and now I have the 200/400 double. I just want to say thanks to God and my coach for keeping me healthy. I wanted to get this national record and now I have it."
Looking back at the race, the 6-foot, two-inch Gardiner admitted that it was "poetry in motion" as he was able to improve on his start, taking control coming off the final bend and he just accelerated to the finish line.
'For the first time, I think I executed the perfect race like my coach (Gary Evans) told me to," Gardiner said. "I did everything that he told me to do and here we are with 19.75."
Gardiner admitted that he doesn't expect Mathieu to be pleased with his feat, but that's how the cookie crumbles.
"Records are meant to be broken and so there's always someone coming, so it's just something that will happen," Gardiner insisted.
In producing the new mark, Gardiner adds his name to the 400m where he was also the first Bahamian to dip under the 44-second barrier. After lowering it a few times, it now stands at 43.89 – posted by Gardiner on August 6, 2017 at the IAAF World Championships in his second final heat before he won the silver in the final two days later.
"It feels great. It's something that I've been focusing on for a while," said the Abaco native. "Last year I was focusing on the 400m and this year my focus is on the 200m. This is my first time putting together a race like this, so I now know what to expect when I run it again."
His time is now listed as the second fastest so far in the world this year behind Clarence Munyal of the Republic of South Africa, who did 129.69 on March 16 in Pretoria. Gardiner, however, opened his season in Gainesville, Florida where he ran 20.20 on March 29.
Gardiner, 22, said he never felt better than he did in 2014 when he had his breakout senior year at Moore Island under coach Anthony Williams when he ran 20.65 in 2014 for the new national high school record.
It's now back to training before he competes again in May.
Also at the meet was Henri Delauze. Competing unattached, Delauze contested the men's 400m where he was was third in his heat in 48.40 for fourth place overall.