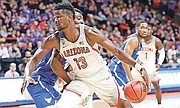 THE postseason accolades continue for Bahamian prep superstar DeAndre Ayton.
Ayton was among several honourees at the NCAA basketball awards show hosted in Los Angeles on Friday.
The Arizona freshman was named the "Karl Malone Power Forward" of the year, ahead of Duke freshman Marvin Bagley and three other finalists for the award. Ayton was also voted an Associated Press First Team All-American. He was also the First Team All-American from the NABC, USBWA and Sporting News.
Ayton averaged 20.1 points and 11.6 rebounds per game while shooting 61.6 per cent from the field.
Ayton was the first player in the history of the Pac-12 Conference to earn Player of the Year, Freshman of the Year and Most Outstanding Player of the conference tournament in the same season. The two-time Pac-12 Player of the Week rewrote numerous pages in the Arizona Basketball record book, including becoming the first Wildcat since Al Fleming in 1975-76 to record a game of 20 or more points and 20 or more rebounds with his 26 points and 20 rebounds versus California on Senior Day.
The Bahamas native also becomes the first Arizona player to earn first team distinction in the AP's All-America honours since Jason Terry in 1999. In other Naismith positional awards, Purdue's Carsen Edwards was named the Jerry West Award as the top shooting guard, Villanova's Jalen Brunson won the Bob Cousy point guard of the year award, Villanova's Mikal Bridges was named the Julius Erving small forward of the year and Seton Hall's Angel Delgado was named the Kareem Abdul-Jabbar centre of the year.
Ayton is already projected to be be one of the top three picks in the draft. If he goes with the first pick, he will become just the second Bahamian to be selected behind Mychal 'Sweet Bells' Thompson, the first foreign-born player taken in the 1978 NBA Draft by the Portland Trail Blazers before he was traded to the Los Angeles Lakers where he won back-to-back titles in 1987 and 1988.