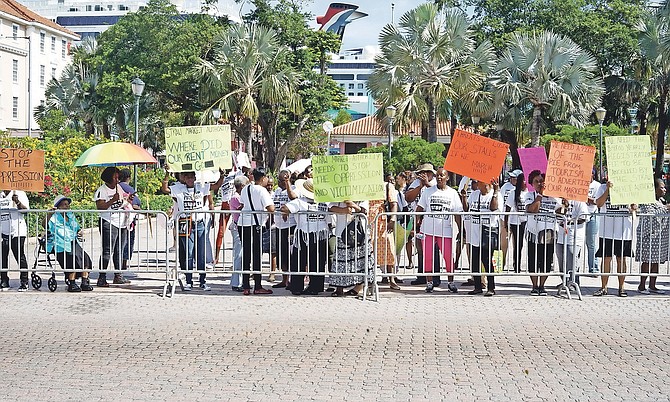 By AVA TURNQUEST
Tribune Chief Reporter
aturnquest@tribunemedia.net
Dozens of Straw Market vendors demonstrated in Rawson Square yesterday, incensed over recent closures of hundreds of stalls for rent arrears they feel are symptomatic of predatory and oppressive regulatory oversight.
Vendors of the Straw Business Person's Society (SBPS) marched to the square in a bid to raise the profile of longstanding issues afflicting Straw Market businesses, chief among them said to be the lack of ownership, respect or job security despite intergenerational service at the forefront of the tourism industry in a bleak economy.
According to vendors, more than 200 stalls have been shuttered for overdue rent in recent weeks. The Tribune was unable to obtain a response from the Straw Market Authority up to press time.
SBPS President Rev Esther Thompson said: "They sent down a notice communication February 23 telling the vendors those who are on agreement (they) have to bring their account current, and anyone who is not on agreement to bring it below $200, short of that licence will be revoked until further notice.
"The stalls are closed, in the October exercise, 127 stalls were closed, in this session of the 223 that were affected, they closed 51. This Sunday they closed another 25. I understand they are going to look at accounts weekly – anyone that misses a payment, their stalls would automatically be closed."
Rent for the stalls is $37.50 per week.
Rev Thompson said vendors have asked for all stalls to be returned and to be granted a year waiver for rent in a bid to allow vendors to bring their licences and National Insurance Board payments current.
"Give them some relief," she said. "I was told if the vendors can't pay their rent, they will have to leave because they have a whole list of people waiting to get in. I think they have interests in the stalls and have persons they want to give it to, and they are using the arrears as weapons."
One angry vendor said: "We got bills at home, people light off, people water off, people have children what on the road have to beg and that's bad.
"We have the people in the high places who eating lavishly and throwing out the food and people hungry. People is be hungry, can't even find nothing for their children to eat and you closing down stalls?"
Another vendor said: "We are tourism ambassadors. We are one of the first set of people that the tourist sees, we are the forefront and they have us under Ministry of Works. We do not dig road or pave road or nothing, why do they have us under Ministry of Works? We are tourism, we are a tourism product, they throw us in the back of the bush like we are second class citizens. We need to go back under tourism so we can be recognised as ambassadors."
The vendors hoped to get the attention of parliamentarians attending House of Assembly, but did not make contact with Minister of Works Desmond Bannister, who has oversight of the Straw Market Authority in his portfolio.
Yesterday, Mr Bannister told The Tribune officials have been lenient with straw vendors in the past. Mr Bannister said he assured vendors during a recent meeting that lighting issues were being addressed, which he noted was an issue that has impacted the Bay Street market for several years.
"When we came into office we met large numbers of vendors who had not paid their rent for years," Mr Bannister said. 
"The receivables were staggering despite the fact that the rent is only $37.50 per week. The board has been very lenient with vendors who were in arrears, and the vast majority of them have complied with requests to make financial arrangements with respect thereto. It is noteworthy to observe that many of the persons who were on Bay Street have not honoured agreements that they signed. We urge them to become current."
Plight
The Tribune heard stories from vendors who claim to have made as much as 70 per cent payment of outstanding balances, only to be further denied or forced to wait up to two days to reopen. Each day stalls remain shuttered result in deepening financial losses, vendors said.
Sheryl Edith Brennen, a 56-year-old second generation vendor, said: "I used to be out there from my mother time, it's a generational thing. I went up there, I borry (sic), beg, and scrap $600 and I take it up to the office and they told me they could not open my stall, and that was more than half of what I owe.
"Then they have people there, what I know, owe thousands of dollars, and they still to they shop. It is pure favouritism, bias. You get people come there and pay $3,000 and because they still owe $42, they tell them come off the property. What you call that?"
Fifty-one-year old mother of four Brunhilda Thompson said: "I was a straw vendor for all my life, the market is all I know. I have kids to feed, I have rent to pay."
Rebecca Small, a 55-year-old third generation vendor, insisted yesterday the critical challenge between vendors, the SMA, and the government, was not over economics but a severe cultural disconnect. She pointed to the lack of success of initiatives mandating "authentic" craft, insisting the current model being forced on vendors was unsustainable and unrealistic. She also noted the stiff competition on Bay Street from neighbouring commercial storefronts peddling touristic offerings.
Ministers of Finance and Transport, K Peter Turnquest and Frankie Campbell respectively, stopped to speak with vendors yesterday and reportedly advised them that they will work to arrange a meeting to vent concerns.