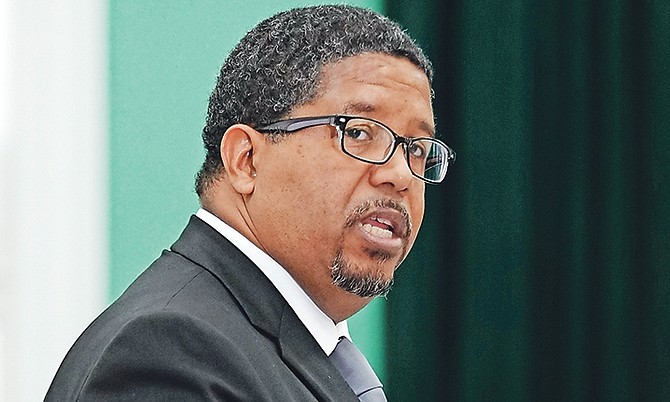 By MORGAN ADDERLEY
Tribune Staff Reporter
madderley@tribunemedia.net
The government is not attacking corned beef, but rather unhealthy lifestyles, said Acting Prime Minister Peter K Turnquest at the opening of the 2018 Agri-Business Expo on Friday.
The Ministry of Agriculture and Marine Resources is once again hosting the three-day expo at the Gladstone Road Agricultural Centre. This year, the theme is "Together, We Grow".
With Prime Minister Dr Hubert Minnis attending the CEO Summit of Americas in Lima, Peru, Mr Turnquest is serving as acting prime minister.
In his keynote address, Mr Turnquest referenced the controversial planned breadbasket food reforms lead by Health Minister Dr Duane Sands.
"We're not attacking the corned beef," Mr Turnquest said. "We are attacking obesity and unhealthy lifestyles."
Although absent, Dr Minnis did release a statement published in the event booklet. In it, he promised that his administration will give "greater priority" to the "ideal of achieving self-sufficiency through increased agricultural output."
Dr Minnis added: "It is my hope that this Agri-Business Expo will continue to expose the public and business sectors to the deep and sincere recognition of the need and requirement for locally produced goods and services which are essential to the expansion and diversification of our economy."
Mr Turnquest also spoke to this, saying his government's long-term goal is to "drastically reduce our reliance on imports by growing, processing, marketing, and exporting our food."
"Ultimately and simultaneously, achieving this goal will significantly reduce our balance of payment."
He added: "I heard someone say on the radio the other day, how do we reduce our balance of payment — meaning how do we maintain more of our foreign exchange here in this country? We earn a lot of money from tourism, but we turn right around and spend that money to import food. So this is one of the ways we do it – by encouraging and incentivising local farmers, local producers to produce the foods that we eat ourselves as well as food that we serve to our guests. We want to see farming communities in our country prosper and grow and contribute even more to our national economy."
Mr Turnquest also said the government has taken steps to ensure that the mail boat operators' services are expanded and upgraded.
"Our island nation requires this to move people, goods, and services in an efficient way. We are assessing the packing house operations so that you, the farmers and consumers, are beneficiaries of modernised facilities that facilitate the transition of fresh, whole foods from the farms to your tables," he said.
Mr Turnquest encouraged young people to take advantage of the opportunities that "now present themselves as gaps".
He added that government agencies are collaborating to promote training and skills development in this area.
Referencing the importance of new technologies such as hydroponics and aquaponics, he said these will "encourage the efficient use of space for a larger, quantity yield that will help to feed our people healthy foods at affordable prices."
The efficient use of space is particularly important considering the damage to arable land caused by hurricanes in recent years and the needs of a growing population, Mr Turnquest noted.
In terms of economics, he acknowledged that current tactics used to prioritise local farmers and producers will not always be feasible.
"With respect to…artificial barriers to trade, we're going to have to become more competitive in what it is that we do. Very shortly, we will not be able to get away with buying imports or putting high tariffs…to protect local producers. And so we're going to have to come up with creative ways in how we incentivise farmers to ensure that they remain competitive," he said.
These may be through concessions, Mr Turnquest said, but he reiterated: "It can't be at the border".
"And so that's going to take some thinking. And I encourage the farmers and the livestock producers to put some thinking around that. Because the way we've done it in the past will not do. Not in this world."