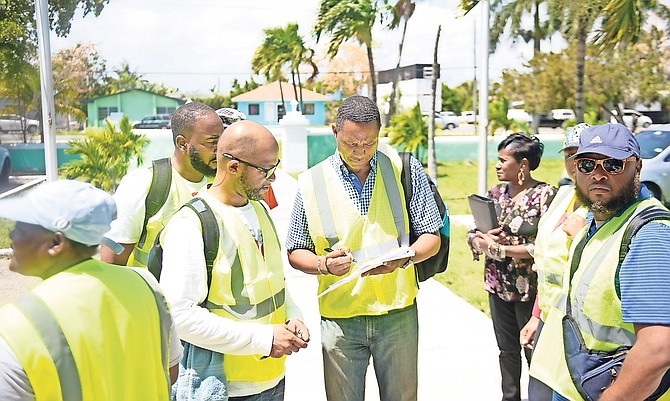 By MORGAN ADDERLEY
Tribune Staff Reporter
madderley@tribunemedia.net 
THE national survey of shanty town residents began yesterday in New Providence. 
Assistant Director of Labour and Secretary of the Shanty Town Committee Morgan Graham spoke to The Tribune yesterday outside the Carmichael Road Police Station. 
Mr Graham explained the purpose of the initiative is to assess the state of the various communities and to gather demographical information about the residents. 
He also promised the census will be handled sensitively, echoing earlier comments made by Labour Minister Dion Foulkes.
"This afternoon we're kicking off our surveying of the various shanty towns," Mr Graham said. 
"We have three teams that are going to be doing surveying in the Carmichael Road area today and two teams will be up at Cool Air up off of Joe Farrington today as well. 
"This initiative has been designated by the government for us to get an assessment of what is going on in these various towns and our assessors have all been trained and we intend to do this in a sensitive and compassionate way."
Mr Graham added each team would be composed of approximately five people from various ministries and departments.
When asked if he had any concerns about the venture, Mr Graham said no, reiterating the census had been previously announced and that it has the cooperation of various pastors.
"We don't anticipate any difficulties," he said.
Mr Graham could not provide an estimate of the number of homes the teams would be able to visit. However, he explained yesterday's venture would "set the groundwork" for what the committee could expect going forward.
In terms of the demographical information they are looking for, Mr Graham said they are interested in "overall numbers."
"We're trying to ascertain exactly how many persons live in these shanty towns, how many are males, how many are females, how many are employed, how many are still in school, those with disabilities as well. Those are some of the questions that we intend to find out today.
"So we're interested in overall numbers."
The status of shanty towns in the country has been under recent debate following two fires in The Mud shanty town in Abaco earlier this year.
Mr Foulkes, head of the government's shanty town committee, has said a census of people living in the 11 shanty towns across New Providence will take place before any demolition.  
Last Tuesday, Mr Foulkes added any structures in these areas that do not adhere to building codes will be "demolished."
He also promised the matter would be carried out sensitively and humanely.