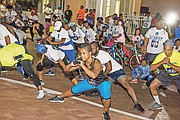 Scores of runners, walkers and skaters participated in the second annual UB Fit presented last weekend by the University of the Bahamas.
The event in New Providence featured a 5k/10k fun, run/walk/bike/skate which started at university's Oakes Field campus.
UB Fit was the first fundraiser of its kind at the university, with a goal to raise funds to augment UB's annual fund and increase mobility on campus for students with special needs.
The event again highlighted "blue power fun" on the route, a scenic beach run for the 10k participants up Saunders Beach and back to the campus.
After the main event, participants enjoyed the Race Village featuring performances by Bahamian sensation D-Mac and African dance with Samantha Pratt. There was a health expo, bouncing castle for kids, face painting and raffle prizes on offer.
Corporate sponsors included Generali Worldwide, NHI Bahamas, SunTee, Elite Wellness Solutions, Bahamas First, Scotiabank, Caribbean Bottling Company, Oaktree Medical Centre, SYZ Bank, Weight Watchers of The Bahamas, Nassau Rowing Club, Holowesko, Pyfrom and Fletcher, Leno, Family Guardian, Bahamas Mortgage Corporation, Bahamas Co-Operative League Limited and UB's Alumni Association.