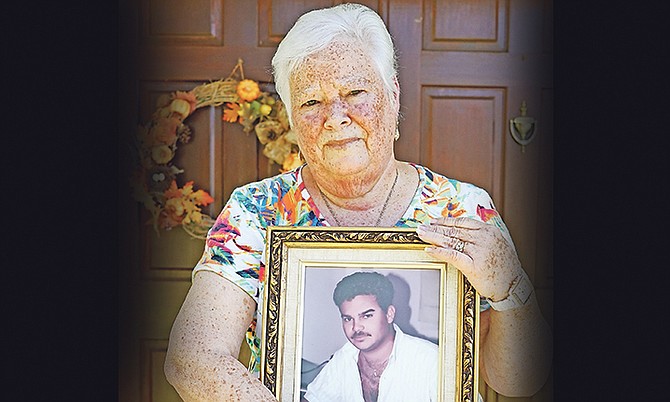 By MORGAN ADDERLEY
Tribune Staff Reporter
madderley@tribunemedia.net 
THE mother of a man who was murdered in their Blair Estates home nearly four years ago says she forgives her son's killer.
Emma Cartwright spoke with The Tribune a day after Tiano D'Haiti, 26, was sentenced to 49 years in prison for Andre Cartwright's death by Justice Renae McKay. However he will effectively serve 46 years in prison after factoring in his time spent on remand.
Mrs Cartwright, 69, said she was unable to attend D'Haiti's sentencing because she received word of it too late. However, she did have words for him should she have been able to attend.
"I would have liked to tell him that I forgave him for what he did," she said.
"I wanted to see him and let him know that I forgave him for what he did, because I don't know what kind of life he had. What kind of upbringing he had, what kind of teachings he had at home, how he went astray or anything.
"But I wanted him to know that in my heart I forgave him because I see him as a soul that Jesus died for. And I would want him to accept Jesus as his saviour before it's too late. 
"Because it's a command of God to forgive. And I forgive him for what he did, but however I want him to pay for what he did." 
When asked how she felt about D'Haiti's sentence, Mrs Cartwright admitted some disappointment.
"It was not what I was hoping for," she said. "I was hoping that he would have gotten a life sentence, the death penalty. But I know we don't do that here in the Bahamas.
"He murdered my son. And it's not like him and my son (were) somewhere and had a fight and he killed my son. They broke through the front door and broke down another door and although Andre said 'stop, I have a gun,' it didn't deter them. They kept doing what they were doing.
"And my son is dead and they were able to run away. That's the only child I have, had. And he was killed in that. So, I feel like…You never know what you have to go through before you die. I don't know what to say about it, but my son is gone.
"And [D'Haiti] being in jail is not going to get Andre back. But at least somebody is paying. At least for 46 years he can't kill anybody else. That's how I feel about that."
Mrs Cartwright described her late son as a great man who was loved by everyone who knew him. She described the murder as "devastating" for her family.
In October 2014, Cartwright, 44, was home with his parents when the front door of their home was broken in around 1.40am.
The invaders claimed to be police officers. According to his father Glenn Cartwright's testimony in court, Cartwright made certain that his parents were safe in a bedroom and got between them and the inner door, which separated that part of the house from the rest of the house.
With the inner door being pushed in, Mr Cartwright said he heard a brief exchange of gunfire, and eventually came out of the bedroom to see his son stumbling backwards into one of the doorways on their side of the inner door. Mr Cartwright said he noticed that his son was in "distress" and holding his chest.
Although Mr Cartwright tried to resuscitate his son, he had already died.
Faith
Yesterday Mrs Cartwright also discussed the miracle in her son's life that took place less than a decade before he was killed.
"Andre, he was near death in 2006 with a massive stroke which no doctors thought he would survive, but Andre recovered completely," she said.
"And the doctors put that down for a miracle and they even said: 'There is something else that you have to do,' because there is no medical reason why he should've survived. But he did and nobody could tell that he had a stroke. He just got completely cured. But that was probably why that happened — you know he was right here to protect us."
Mrs Cartwright attributes her faith, and the support of her church, Beacon Baptist, with helping her cope with life without her son.
"Since Andre is gone, you know it will never be the same. But I'm learning to live with it. I am a born-again Christian and so was Andre, and I know that Andre is in heaven and I'll see him again."
She also thanked the judge and prosecutors for doing a "wonderful job," adding that she understood the courts did what they could.
"Thank goodness justice prevailed, and somebody ended up paying for my son's murder," she said.
When asked what she would tell the families of other victims of crime, Mrs Cartwright reiterated that her strong faith in God is what sustained her during this ordeal.
"I think I was able to handle this because I know that whatever happens in my life, God is in total control. I don't understand the things that I have to go through. But I know that God knows and He's got my back. He is in control, and I cannot question God. At first I said, in my heart, 'Why did this happen?' But who am I to question God?
"So I was able to handle this the way I did because as soon as it happened, I reached out to people to pray for me, to help me through this. And that is what I know kept me sane.
"Seeing my son dead on the bathroom floor I just looked up and I said to myself, 'What is going on?' 
"And I just said 'Well Lord, I know You know what's happening.' And God didn't do it, but He allowed it. And I don't know for what reason. So the reason why I got through it the way I did was putting my whole trust in the Lord. And asking Him to help me through it every day. And that's what happened."