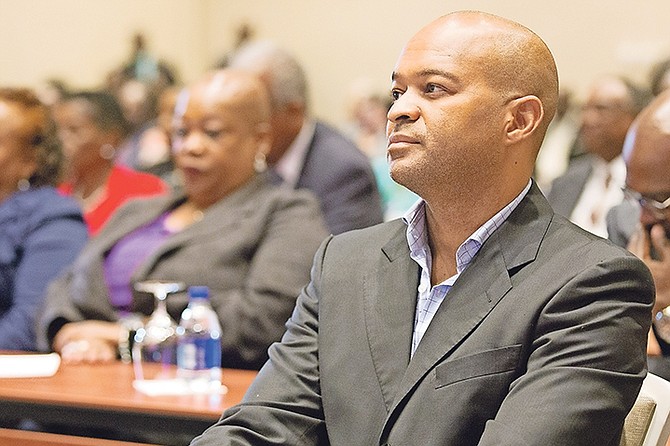 By Rashad Rolle
Tribune Staff Reporter
rrolle@tribunemedia.net
CENTREVILLE MP Reece Chipman moved a motion in the House of Assembly yesterday to establish separate select committees to investigate fake news and whether the country is maximising its natural resources.
He called these "motions of sovereignty".
Last year, Mr Chipman was a victim of social media rumours that some characterised as fake news.
His statements in the House yesterday came weeks after he was fired by Prime Minister Dr Hubert Minnis as chairman of the Antiquities Monuments & Museum Corporation (AMMC).
He said: "At this stage in The Bahamas I believe it is important for us as Bahamians and for our children, those that are unborn, to identify with the spirit of sovereignty. The first motion would be for a select committee to investigate deliberate online falsehoods, nowadays termed fake news which has an indirect way of impacting and directing our culture. The committee will take submissions from the public and hold public hearings to gather feedback before reporting to the Parliament.
"There is a high risk of fake news that interferes even with our main economic engine and industry such as tourism and financial services. Disseminating these falsehoods, particularly if its done covertly, attacks the very heart of democracy by preventing constructive discourse.
"The second motion I intend to move will deal with our natural resources. I believe we must be deliberate with our intent to protect the natural beauty and maximise the natural resources gifted to us by our almighty God. We must consider a select committee to consider how we can better protect and utilise our natural resources, aragonite, oil, sun, wind, sand and sea for the maximum benefit of our people.
"The select committee should investigate, examine and review existing royalties and valuations received and being received for our natural resources such as aragonite, sand and our seabeds. These are already line items in our revenue budget so there is a starting point. If lives are to be enriched, if there are to be better schools, affordable healthcare and reduced criminal activity it should be done for the benefit, not for the capital interest of a few, but for the sovereign interest of the many."
Parliament must unanimously support the establishment of a select committee, according to law.