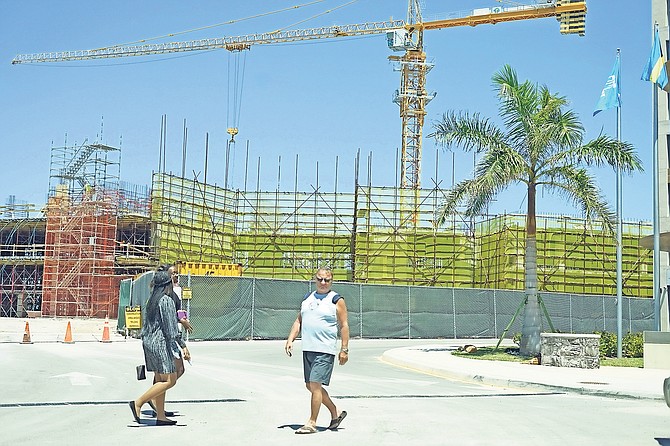 By Khrisna Russell
Deputy Chief Reporter
krussell@tribunemedia.net
INVESTIGATORS from the Department of Labour have discovered a disproportionate number of foreign labourers to Bahamian workers at The Pointe development in downtown Nassau, The Tribune was told yesterday.
However, according to well-placed sources, The Pointe's developers - China Construction America, have told labour officials 100 Chinese nationals remained in the country following the completion of The Pointe's parking garage for specialised purposes. The workers were tasked with laying an apparent intricate steel foundation for the next phase of the $200m development.
Developers explained to the government, The Tribune was told, a full complement of Bahamian workers are not needed at this time, but would be called upon once this portion of construction is finished. It is unclear whether this represents a breach of the workforce clause in the heads of agreement between CCA and the government, as the developer has made a case why there are more foreign workers on the project when compared to local builders.
The Heads of Agreement between CCA and the government states 70 percent of the workers are supposed to be Bahamian and 30 percent should be foreign.
Labour Minister Dion Foulkes would not confirm these developments, but he said a report of the findings was complete and expected to be presented to Cabinet next week. While not passing culpability onto the developers, he said once this is done, CCA would be given a chance to respond to the report in an effort to be fair to all parties involved.
This comes as developers have recently erected additional material to obstruct the view of ongoing work on the compound. Bahamian Contractors Association President Leonard Sands accused CCA of using this as a means to "hide something" from Bahamians. He said the BCA was also considering a demonstration at The Pointe.
Director of Labour Robert Farquharson was defensive yesterday when he was contacted with questions about the project. He said there had been no "factual basis" for the concerns raised about The Pointe. He would not clarify this assertion when he asked to do so by The Tribune. He would only repeat that investigators were in the process of completing the report. 
Mr Farquharson would not answer questions which centred on what process would ensue if CCA was found to be in breach of the heads of agreement, saying this was not in his portfolio.
The government's apprehension to give answers on this situation continues to anger the BCA, Mr Sands said.
"The Bahamian Contractors Association is questioning how it was allowed to get to this point in the first instance because that is a dereliction of duty," Mr Sands told this newspaper yesterday. "If you have a duty to ensure that someone lives up to their contractual agreement it is your job to put in place a procedure for checking to ensure that the Heads of Agreement guidelines are met and held.
"It should not be an association or private citizen or non-governmental agency to go and find that out for you.
"Let's say they are in violation, what do they get? Do they get a change to hire some more persons so the ratio is what it should be? How is that process going to roll out? Do they have a PSA that says right now we have a certain number of Chinese and we need hundreds more Bahamians?
"That needs to happen immediately or else the project needs to cease until they become compliant. We need to know how that is going to work."
On Sunday, Mr Sands demanded officials do a physical count at The Pointe of workers to determine whether the heads of agreement is being adhered to.
He said local contractors were angered to have been neglected in the construction phase of the project.
Earlier this month, Tribune photographers monitored who went on to the site and with the exception of three or four Bahamians and a guard at the gates of the development, everyone else appeared to be Chinese.
Previously, this newspaper observed workers on the site in both January and February and it was a similar story. Dozens of Chinese builders walked on to the site every day from a building, which lodges the workers opposite the development, and virtually no Bahamians were anywhere to be seen.