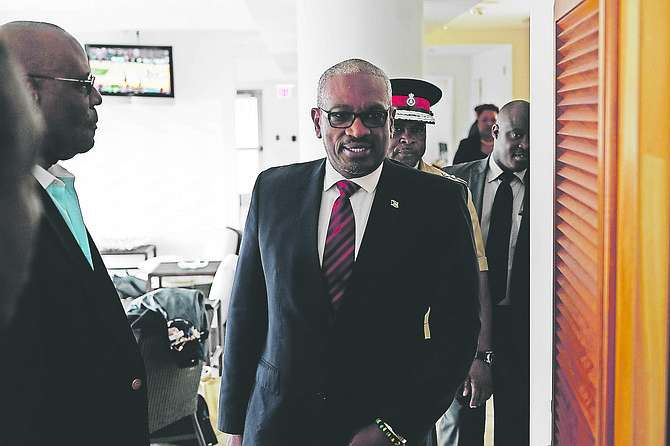 By RASHAD ROLLE
Tribune Staff Reporter
rrolle@tribunemedia.net
PRIME Minister Dr Hubert Minnis said he is not disappointed by a recent poll showing Bahamians are increasingly dissatisfied with his government.
Reacting yesterday on his return from trips to Peru and the United Kingdom, Dr Minnis said: "If you look at every poll throughout the world…government usually loses (political) capital throughout the first year. That's accepted; that's standard. Let's look at why. Governments make promises and commitments. Government and the people expectations are high and I accept that, but you put me in office for five years, I can't do it in year one and that's the expectation and because it's not done in one year you would expect there would be some degree of disgruntledness, that's normal.
"However, what we stated we will do, we will deliver and you will see that number going up and the PLP going down. I don't know how low they can go; I don't know where they're at now."
The poll by marketing and research firm Public Domain showed that since last year's general election, there has been a 28 per cent increase in the number of Bahamians who are dissatisfied with the government. Meanwhile, the number of Bahamians generally satisfied with the administration has decreased by 18 per cent.
The poll was conducted from March 15 to April 7 and relied on a random, weighed sample of 1,000 Bahamians. It came as the administration prepares to mark its one year anniversary on May 10.
Deputy Prime Minister Peter Turnquest, when asked recently about the poll results, admitted the government's communication efforts have been inadequate but said the poll won't prompt the administration to change course.
"At the end of the day it isn't going to affect what we are focused on doing," Mr Turnquest said recently. "We recognise that Bahamians have suffered, continue to suffer a slow turnaround and we understand we have a job to do. We're focused on that job and we will make improvements that are necessary and hopefully at the end of the day in four years from now they will see, touch and feel the result of the work we do and it will be demonstrably clear that this period is just a rebuilding, a planning period for what is to come."