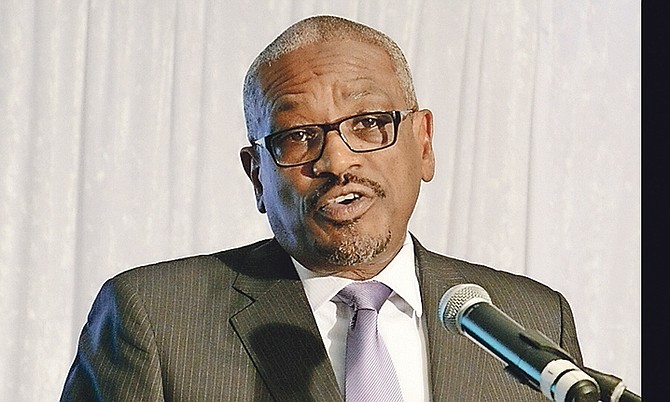 By RASHAD ROLLE
Tribune Staff Reporter
rrolle@tribunemedia.net
PRIME Minister Dr Hubert Minnis said yesterday he was being "conservative" with his estimation when he said The Bahamas loses $200m a year to corruption.
His statement came during a press conference at the Lynden Pindling International Airport after trips to Peru and the United Kingdom.
He said he chose the $200m figure after considering general global estimations of the cost of corruption which peg it at five to ten per cent of a country's gross domestic product, as revealed during the Summit of Americas.
"It was pointed out by the world leaders that about five to ten per cent of a nation's GDP is lost through corruption and in some cases it's as high as 30 per cent," he said. "When you look at The Bahamas with a GDP of about $10bn, if we were to take the lower of the world's figure which is five per cent, that would mean The Bahamas loses approximately $500m per annum as a result of corruption. I was very, very conservative when I said corruption in The Bahamas is probably $200m, which was below the world's figures.
"If you want the true figure, if The Bahamas' GDP is $10bn, if you look at the lower limit because we are a religious nation so let's put ourselves at the lower level, you talking about $500m.
"What is also significant is it was pointed out if you were to take corruption as an issue and make any dent that in itself could increase your economy; that's an economic stimulus so more money is available for schools, for hospitals, for jobs and that is why the entire world is looking at this factor to use as another factor to boost economic growth and development. Corruption, or monies taken out of the system, is essentially an illegal form of taxation on the poor, the public and investors and that must be dealt with appropriately."
Dr Minnis was criticised by Progressive Liberal Party Leader Philip "Brave" Davis for "badmouthing" The Bahamas abroad with his talk of corruption. But he said yesterday the theme of the summit in Peru was corruption, suggesting the topic was unavoidable. He made the $200m remark to a reporter on the sidelines of the summit in Peru.
"The theme in Peru was anti-corruption and all nations present, including the United States, would've made their contributions in terms of corruption and The Bahamas being a part of the world order would've made its contribution also, informing the world what we have done, our progression in terms of contribution to anti-corruption and every country would have done similarly," he said. "What was amazing is all of us would've basically been on the same track coming out with the same type of legislation."
Regarding criticism from the opposition in particular, he said those critics were speaking in the dark.
"I went through it slowly so the opposition would understand what I said," he said. "He should not be speaking in the dark. I'll always remember a very excellent quote, I cannot remember the author but I love the quote and it states, 'I would prefer to get punched in the face by the truth than kissed on the cheeks by lies.' You understand that."