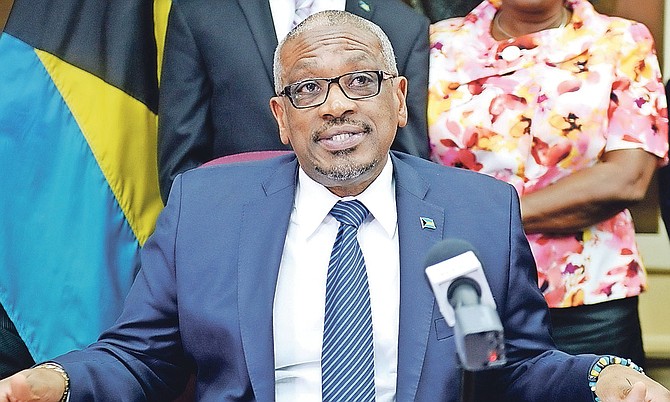 By AVA TURNQUEST
Tribune Chief Reporter
aturnquest@tribunemedia.net
PRIME Minister Dr Hubert Minnis yesterday said he was not worried about losing political capital due to his delay in appointing a substantive chief justice, adding that his actions – or lack thereof – were totally supported by the Constitution.
Dr Minnis became defensive on the issue after repeated questioning by the media at a press briefing marking his return from England, asking reporters whether they would prefer he prioritised the matter over other national issues like last week's blackout threat by Bahamas Power and Light unions.
He suggested the Bahamas' Constitution provided for a specific timeframe on appointments for the post; however, The Tribune was unable to find such a clause.
Dr Minnis said: "At this point in time I'm trying my best to improve the Bahamian economy, improve the quality of life for everybody, you just told me about BPL possibly turning off lights – that is more important to me, so those are matters I will tackle first."
When asked if his statement implied he did not consider making a substantive appointment a priority, Dr Minnis replied: "Let me ask you a question, which is priority to you, your light going off or you getting a CJ, which one is more important to you?
"I know what is more important to me," he added, "the light is more important to me. What is more important to you?"
He shrugged off one reporter's attempts to raise concerns made by the legal fraternity, saying: "No, take that out of the question, you would prefer your light being off or me taking all resources and dealing with it, which is more important to you?'
When asked who was advising him on the CJ matter, Dr Minnis said: "I have the whole Attorney General's Office, I have my Cabinet."
At the briefing at Lynden Pindling International Airport yesterday, Dr Minnis appeared to grow frustrated by repeated questioning on the matter from reporters. He did not respond directly to a question about speculation that Attorney General Carl Bethel is being considered for the post.
Stephen Isaacs was sworn in as acting chief justice last December.
Late last month, Bahamas Bar Association President Khalil Parker suggested the constant undermining of democracy has pushed the country to an existential and constitutional crisis.
Among others critical of Dr Minnis are several Queen's counsels, including Wayne Munroe, Maurice Glinton and Alfred Sears. The Tribune understands some justices of the Supreme Court have also grumbled about the matter.
"Constitutionally," Dr Minnis said yesterday, "our Constitution is different from Jamaica, constitutionally I am totally correct in terms of an acting CJ. The Constitution allows me a certain timeframe and it will be done within the timeframe of the Constitution."
He continued: "Listen I am not worried, I stick with the Constitution, if I am protected constitutionally then that's all I know."
According to the Bahamas' Constitution: "The chief justice shall be appointed by the governor general by instrument under the public seal on the recommendation of the prime minister after consultation with the leader of the opposition."
Concerning acting justices, the Constitution states: "If the office of chief justice is vacant, or if the chief justice is for any reason unable to perform the functions of his office, then, until a person has been appointed to that office and assumed those functions, they shall be performed by such other person, qualified under paragraph (3) of Article 94 of this Constitution for appointment as a justice, as the governor general, acting in accordance with the advice of the prime minister may appoint for that purpose by instrument under the public seal."