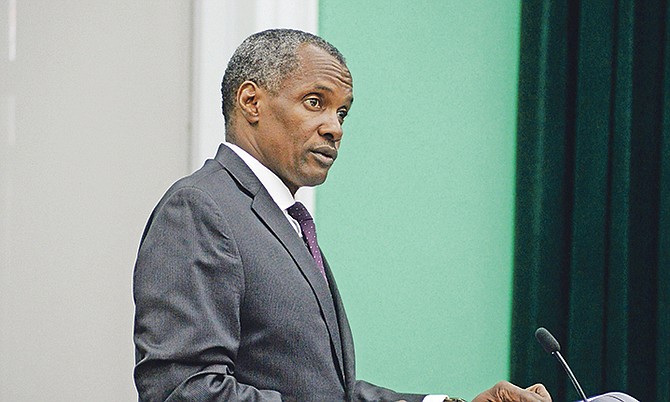 By AVA TURNQUEST
Tribune Chief Reporter
aturnquest@tribunemedia.net
WORKS Minister Desmond Bannister yesterday said that neither the government, nor the wider public, would tolerate blackout threats from unions at Bahamas Power and Light as the company plans to offer voluntary separation packages to workers in a "rightsizing" exercise.
"Bahamians are not going to put up with any long, hot summer, and we're not going to," Mr Bannister, pictured, said. "I don't know where it came from, but the Bahamian people will stand up for their right to have some basic amenities in their life, one of those which is electricity."
Unions representing workers at BPL had threatened it would be "a long, hot summer" as they fumed over planned job cuts. On Friday, Bahamas Electrical Workers Union President Paul Maynard said lack of government intervention over the problem could see Prime Minister Dr Hubert Minnis return from a trip to England to a country in darkness.
At a press briefing marking his return from Commonwealth Heads of Government Meetings in London yesterday, Dr Minnis said the Ministry of Labour would broker talks between the unions and BPL's board to reach an amicable resolution to ensure there is no loss of power.
"Electricity is very important to us and we will do everything in our power to ensure there is no loss of power because there are people who are sick and they need power for their medication, the schools use the computer system, it can affect the entire economy and it's our job as government to protect the economy and protect the quality of life and improve the quality of life of the Bahamian populace," Dr Minnis said.
The company announced plans last week to cut jobs as automated services are installed over the next 18 months. This angered BPL'a managerial and line staff unions.
BPL Chairperson Darnell Osborne told The Tribune yesterday she expected BPL to launch an investigation into Thursday's island-wide blackout on New Providence, adding that she planned to meet with union leadership when she returned from leave taken for personal loss.
"I just think that's irresponsible," she said concerning blackout threats, "and that was where my conversation was with the union, we don't need those type of threats. We are not at that stage, we are not in a hostile environment. When we have the details then we will call them in, which will be shortly. I've been informally in discussions and calmer heads need to prevail. Let's wait and see."
For his part, Mr Maynard said the unions moved to address recent media statements from BPL as there had been no formal communication with bargaining agents.
Mr Maynard said the relationship between BPL and unions was still cordial and professional; however, Friday's press conference sent a clear message that the union would not hesitate to act in the best interests of its membership.
"It's just the fact that you can't continue to be in the papers saying stuff and you haven't been talking to the union," he said yesterday. "You gotta talk to the stakeholders. We don't have any details, we need to sit down and talk about it.
"We're cordial, we're professionals. It's just that we want to know what the plans are, and we will see if we can assist. You can't be in the paper talking and got me finding stuff out and we right there, it's not like we're in another country."
'Calmer heads'
Meanwhile, Ms Osborne said officials are still "a matter of weeks" away from crunching the numbers on the "rightsizing" exercise to determine how many of its estimated 1,100 staff will be eligible, insisting it will only feature voluntary severance packages.
"As far as I'm concerned there is not a hostile relationship (with unions)," Ms Osborne continued, "we have enjoyed a cordial one. I spoke with the president (Saturday) and told him I think calmer heads need to prevail. I think they got offended with the announcement or the discussion that there will be a rightsizing of the corporation. As the minister indicated there will not be an irresponsible rightsizing, we're in the initial stages of considering a voluntary severance package which has been mentioned to the union."
"It's a bit premature," she said.
"Bear in mind we have a number of employees who have reached the 30-year mark. So, it's not as if you're putting all these people out to pasture without pension. BEC has quite an attractive pension plan and retirees taken care of quite handsomely. I think the union should be responsible.
"Calmer heads will prevail, we will sit down with the union and work out an amicable solution. We just don't need to be entertaining threats, that's not possible, we're in 2018 in a progressive situation. We need to work together for the betterment of the Bahamian people."
Minutes after Bahamas Power and Light's CEO Whitney Heastie outlined steps BPL plans to scale down service disruptions in anticipation of the hot summer, New Providence was struck by an island wide power outage last Thursday.
Mr Heastie mentioned rightsizing efforts at that press conference.
However, Mr Maynard said the disruption in service was due to an explosion at substation eight in the Blue Hills Plant.
"Well that's what they say," Ms Osborne said yesterday when asked whether BPL had launched an investigation, "the public will judge. I'm on leave but I'm thinking that there will be or they have been investigating it."
Ms Osborne added: "In order to progress we have to rightsize the corporation. We have 1,100 staff almost. When you start to automate there are changes that need to be made. We have people who are ready, several people have approached me who are prepared. We're moving ahead. We want to make sure it's done in the best possible position so Bahamian people and business are not affected. We can't say numbers just yet, we may get more than we need to get, we may have to refuse persons."