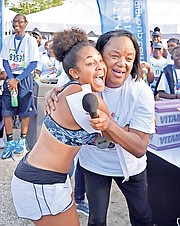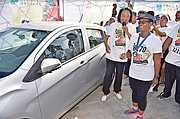 Atlantic Medical's Fun Walk/Run in Nassau attracted an unprecedented and enthusiastic crowd of over 1,800 competitive walkers and runners, among them none other than Minister of Health Dr Duane Sands who also assisted in prize presentations.
Ladonna Gardiner said when she decided to participate in the 20th annual fun walk/run event on April 21, she never imagined that she would drive away in a brand new car.
Ms Gardiner beat out more than 1,000 eligible contestants to win a 2018 Chevrolet Spark - the most highly anticipated prize of the day. She was among five finalists randomly selected from a spinning barrel filled with tickets. Each finalist was given a Chevrolet key. The person whose key opened the car was the winner. Ms Gardiner was the second contestant to try her luck and got the shock of her life when the doors of the car unlocked.
"I was so happy when I pressed that button and the light lit," she said. "Oh God thank you. I am so excited. I have never won anything in my life."
The second most anticipated takeaway was the prize for the social media competition - a new element added to the event to encourage the participation of youth ages 10-18. Seventeen-year-old Sierra Donaldson won for having the most Instagram likes at hashtag 'riseandshine' after posting photos with her friends and family while on the walk.
The Bahamas Global Academy student was undeniably excited when she won. "I felt really, really excited because I don't usually win things when it comes to these," she said, "but I am really happy that I entered."
Other prizes presented included spa packages airline tickets cell phones and gym memberships.
The overall male winner of the competitive six-mile run was Nicolas Thorpe, clocking in at 36:03. The overall female winner of the competitive run was Roberta Fontana who crossed the finish line at 37:50.
For the overall walkers, Douglas Palacious was the top male finisher at 41:26, while Carol Knowles clocked 44:30 as the first female to complete that race.
Atlantic Medical's Freeport branch held a Fun Walk/Run simultaneously with the one in Nassau.
According to the company's executive vice president and general manager, Lynda Gibson, this year's walk was not only special because it reached the milestone of 20 years, but also because it was held in honour of the former president and CEO of Colonial Group International Alan Peacock who died suddenly last year.
"We wanted to do something substantial in memory of him because he always loved our Fun Walk, she said. "He always used our walk as an example to other companies in the other jurisdictions."
Anastasia Francis, Atlantic Medical's director of operations, admitted that although coordinating this year's event took a lot of hard work and long hours, it paid off in a big way.
"We were extremely pleased at the numbers," she said. "We targeted 1,500 participants and we registered just over 1,800. We are extremely pleased at the turnout."
Atlantic Medical's slogan "All together better" was this year's theme and showcased in this year's walk in particular, according to Donovan Ingraham, the insurance company's wellness coordinator.
"We believe it's a community effort," he said. "We believe in every effort of trying to reverse chronic illnesses and reduce the claims that come into our office as it relates to non-communicable disease. It takes a community to make that change. Today was a proving effort because we brought a whole large group of vendors and a whole large group of companies into one spot for one cause."
Company representatives said Atlantic Medical will continue promoting health and wellness because doing so is one of its primary commitments to its clients and the community.