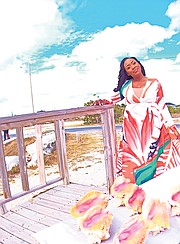 Sometimes in life you just have to start over.
That's exactly what multi-award winning Bahamian gospel singer, author and journalist Vanessa Clarke had to do to launch her new "Like the Dew" project.
"This was a special mandate given to me by God to remind believers that He is always around… that they are never alone in battle - whatever the perplexities of life that seek to uproot and make them weary - He will make His presence known. He is there to give them strength and to make His presence felt in their situations," said Vanessa.
Her journey to this point, she said, has been heart-breaking and there were times when she just wanted to give up.
"The only reason why I did not give up was the fact that I knew the Lord gave me this project to do. All of the songs were inspired by Him and that is why I pushed so hard… I don't care how good you are in this business, if you could not give me your best - even in your attitude, I had no problem starting over. And I did that in some cases without any regrets," said Vanessa, who is known in Grand Bahama as the 'Divine Lady'.
And her hard work has paid off, as the singer has been nominated for six Prayze Factor People's Choice Awards, which will be held in Atlanta, Georgia this September. She was nominated in the categories of Praise and Worship Song of the Year, Songwriter of the Year, International Artist of the Year, Contemporary Christian Artist of the Year, Urban Artist of the Year and Christian Pop Artist of the Year.
"I am truly humbled by this nomination. I can't thank God enough for giving me this mandate to take to the world. It's why I kept pushing for perfection in the production of the music for this project. I realised that there is a spiritual component at work. I needed my producers to treat this project like anything that belonged to God. So I could not settle for mediocrity," she said.
"This song is about welcoming the presence of the Lord into your space to fight your battles in the supernatural realm, and to thwart all of the enemy's intentions regarding you. This is good news that should bring comfort to everyone. Daddy, is still in the fight and if He is still fighting, you can't give up! I was ready to give up on this entire project but this song ministered to me and I knew I had to keep going. I had to forgive, let go and keep it moving until I got it right. Now it's done.
Vanessa explained that the song "Like the Dew" was not planned to be the first release from this project, but it was God's will, and she had to change producers and the song, and take the project to Nassau.
"I sat on a plane… not knowing the producers at all. I had never met them. I had never been in their studio before . We were utter strangers. I had no reason to trust them...but I trusted God."
"I got off from work one day, bought a ticket to Nassau at 1.45pm and was on the plane the same day to Nassau. I said God, this is on You. I am here. I am on the plane. Whatever happens from here is on You. Every accolade and every praise for this project belongs to Him. He is leading this assignment and I am just following His lead," she said.
"Like the Dew" was produced by Junior Scott and Freddie Seymour, who completed the work in approximately two months.
"I could not believe it. That's what I needed. They were who I needed," said Vanessa.
The "Like the Dew" project will include a women's devotional bearing the same name and a full length CD with about 10 songs.
"Like the Dew", the devotional, will be her second book, following her first release, "Ready for Repositioning", in 2014.
Vanessa has also finished shooting amusic video for the new song which will be launched locally on the Mother's Day special of the "Phenomenal" television show, hosted by veteran journalist Joan Davis-Rolle on ZNS. It will also be launched globally on major television stations.
Vanessa has dedicated the music project to the memory of her best friend and singing companion of over 20 years, Dedrie Hanna, who passed away in January this year. The wpmen's devotional will be dedicated to her two daughters, V'ajha and V'lori.
"Like the Dew" can be found on iTunes, Amazon.com, CD Baby, Spotify and all of the popular download sites. People can can vote for Vanessa at www.prayzefactorawards.com.