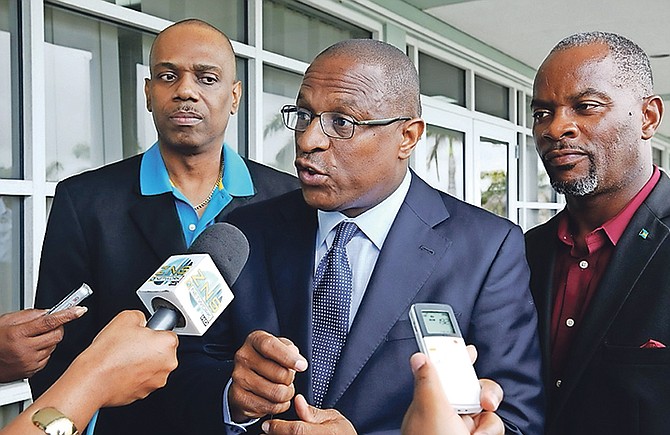 By ROBYN ADDERLEY
SIX hundred and ten more residents of Grand Bahama are now better prepared to repair their roofs as a part of the government's national repair programme.
With a steady flow, those armed with the necessary identification, lined up on Monday to receive their much anticipated assistance for roof repairs with the hurricane season fast approaching.
Parliamentary Secretary in the Ministry of Works Iram Lewis said in addition to the 125 cheques previously distributed, they are in possession of 610 for those who were in tiers two, three and four.
Describing the day as a "great" one, Mr Lewis added that people can now have their roofs repaired and ready for the hurricane season. He added that because of the large number of cheques being distributed, people should only come to collect if they have been contacted.
He said: "We are presently compiling a fifth list that we're sending into Nassau around the first part of May. As soon as that list arrives in Nassau, they will also be processed and brought to Grand Bahama and we expect that everyone will have their cheques in hand prior to the commencement of the hurricane season.
"It means a lot to the people of Grand Bahama because it's been long coming and when you drive around town, you still see a lot of tarp on roofs and a lot of homes (that) are still damaged as a result of leaks. We are just pleased that at this time, the government is able to assist the constituents from East Grand Bahama all the way to West, and some of the smaller cays."
Targeting residents with roofing leaks, Mr Lewis said it is important that they are stopped and the homes are saved. He urged the residents to ensure that their homes are repaired properly and comply with building codes.
"And by all means, please get your insurance because based on what I've found out in a short period of time, there is no way the government can sustain such a programme. It is a heavy burden on the government, but again we are about people and we are going to do our best to ensure that relief is given at this time."
Minister of Youth, Sports and Culture and member of Parliament for Marco City Michael Pintard added that there are a number of people being assisted independently, either by MPs or various churches.
"We are asking residents who have gotten the supplies that they need to decline to accept additional supplies from some of the non-governmental organisations, churches or the government, so that somebody else can get assistance," he said.
Turning his attention to contractors, the minister said that there are a number of them who have consistently gotten contracts from government whether under this or the previous administration.
"We're asking that where possible, help particularly the senior citizens. There are a number of single women with children living in very tough conditions," Mr Pintard said. "We're asking if you can assist by at a minimum, giving a reasonable figure for the work that you're doing, but secondly, where you are able to volunteer some time, to do so in order to help.
"It is really a difficult time for a number of families, and we're asking persons to just really have a conscience and offer some assistance."
The minister said that when contacting a contractor, check with the Ministry of Works, which is familiar with contractors and whether or not they are reliable.
"We will not deceive you, we will tell you up front that we have a historical difficulty with a particular contractor if we have on record where they have started jobs, collected the payment and have done nothing else. Far too many horror stories exist where persons have paid, borrowed money in some cases, only to find that the work has not been done satisfactorily."
Also present was Rev Frederick McAlpine, member of Parliament for Pineridge, who said when receiving the funds, residents should be responsible and repair their roofs, and not pretend as if it's Christmas.
"The government has done this. They have held up their end of the bargain. Please, we don't want you to come back and say you didn't get, or your roof isn't repaired. We have a list, we know who got their roof repaired (cheque) and so don't call us out so we have to call you out. We know who you are, we know what we did and we did it in good faith," Rev McAlpine said.
The deadline for the programme was Friday, April 20.