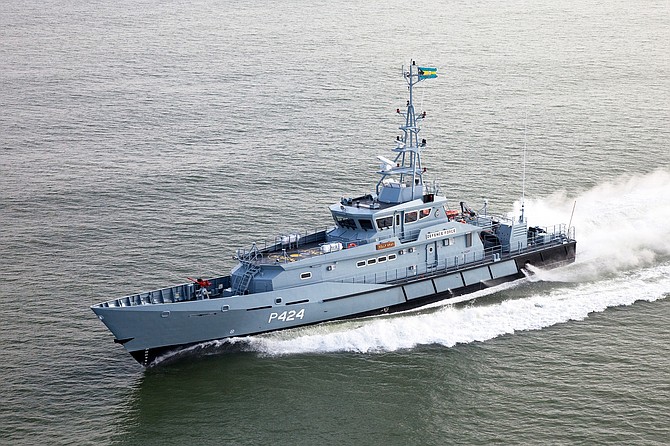 Two of nine new vessels non-operational after groundings
COMMODORE Tellis Bethel has indicated that seven of the nine Damen-built vessels acquired between May 2014 and July 2016 for the Royal Bahamas Police Force are operational.
Two are non-operational because of groundings and a third vessel, HMBS Leon Livingstone Smith, is being prepared for a scheduled dry-docking.
Arrangements are being made for HMBS Rolly Gray, damaged on Sunday, to be assessed.
In early 2016, HMBS Cascarilla experienced a "less severe grounding" costing $23,000, Commodore Bethel indicated.
Meanwhile, the cost to repair HMBS Durward Knowles, which ran into a jetty in November 2016, was $153,000, though the RBDF paid a $75000 deductible.
In view of these incidents, Commodore Bethel has said plans are being finalised for the installation of a $1.6m, state of the art marine bridge simulator to facilitate advanced navigational, ship handling and refresher training for RBDF seagoing officers. This is expected to occur in July.
The information was released to the media yesterday after a video went viral of Prime Minister Dr Hubert Minnis admonishing Commodore Bethel about the incidents, as he greeted him before the conference.
Asked about the public's reaction to the clip during yesterday's press briefing, Press Secretary Anthony Newbold said: "If they can navigate, they need to navigate properly... Bottom line is we all want our men in uniform, certainly those men patrolling the seas, to have the wherewithal and the capacity to do their jobs, which is to patrol the seas."
By RASHAD ROLLE
Tribune Staff Reporter
rrolle@tribunemedia.net
A CLIP has gone viral of Prime Minister Dr Hubert Minnis admonishing Royal Bahamas Defence Force Commodore Tellis Bethel about marines "mashing up" defence force vessels, adding that officers must "learn to navigate".
The comment came after a set of propellers on HMBS Rolly Gray was damaged on Sunday morning after the boat departed Coral Harbour, the third time such an incident has taken place in the last six months.
Yesterday, Commodore Bethel, through information provided to Press Secretary Anthony Newbold, said the commanding officers of two vessels involved in recent incidents have been reassigned.
He also revealed that the cost of repairing HMBS Arthur Dion Hanna which sustained damage to its port shaft and gear box in November 2017, was $1.5m.
"The RBDF will be responsible for all payments, with subsequent claim to be submitted to the underwriters, less than $75,000 deductible," Commodore Bethel noted. "Bradford Marine (a ship repair company) has advised that the repairs to HMBS Arthur Dion Hanna will not be completed before the end of the calendar year due to lead time required for certain components. Once parts are in hand, repairs will take no less than four weeks."
In the wake of the incidents, Commodore Bethel stressed seasoned boaters know the ocean can be a very "unforgiving" environment.
"While officers and marines of the RBDF must be held accountable for the costly maritime assets entrusted to their care, it should be appreciated that the greater the number of patrols at sea, the more likely it is for an incident to occur," he said.
In total, three of nine Damen vessels, built in the Netherlands as part of the Sandy Bottom Project under the Christie administration, have experienced "groundings resulting in propeller damages with a total out of pocket expense to the RBDF being $198,000," Commodore Bethel indicated.
As for the viral cell phone video, it began as Dr Minnis entered the Paul Farquharson Building at the Royal Bahamas Police Force's headquarters on East Street Monday to open a Freedom of Information Act workshop.
He shook the hands of several officials on his way to Commodore Bethel, including Police Commissioner Anthony Ferguson. He shook Commodore Bethel's hand and said: "Commodore, I hear y'all still mashing up our boats hey? Your fellas need to know how to navigate."
Commodore Bethel barely registered a response and appeared flustered while Commissioner Ferguson, standing next to him, chuckled.
Dr Minnis' public relations team regularly streams his public appearances through his Facebook page. It's not clear, however, where this clip originated.
Bahamians had mixed reactions on social media to the clip, with some believing Dr Minnis was disrespectful for saying the comments in a public setting, while others felt the reprimand was warranted.
The encounter became the subject of internet memes with one artist quickly releasing a song based on the exchange.
'Red flag'
National Security Minister Marvin Dames, nonetheless, told The Tribune the interaction was not meant for "public consumption."
"It was a private comment made to the commodore," he said. "If you listen, it wasn't 'hey man what the heck you doing?' He was greeting him. There was no ill-intent there but we recognise we've had a few incidents in the last year and I think there were some the previous year and so that's a red flag. We need to find out what's causing these incidents and what we need to do to prevent them in the future. We can't afford to continue having them."
Mr Dames said Sunday's incident is still being investigated. "A determination will be made at the end of the investigation as to what happened and what needs to take place," he said. "Generally, the captain is relieved until the investigation is complete and the determination is made as to what was the cause."
Mr Dames could not say how much it will cost to repair the vessel. However, the same vessel, HMBS Rolly Gray, sustained damage to its propellers in a February incident after running aground near Ragged Island. The cost to replace the propellers was $64,000. Commodore Bethel said this was paid by the RBDF because it was below the $75,000 insurance deductible amount.
"The commanding officers of both vessels have since been reassigned and additional maritime training programmes are being instituted for ongoing professional development of all sea-going officers," Commodore Bethel said.
Meanwhile, Mr Dames said every incident must be considered on their own merit.
"We have to look at each accident on its own merit to determine whether it is human error by the officers or whether it is just an accident," he said. "This will certainly, and the commodore and I have had some discussions around this, there's a definite need for us to know what we need to do and we've been getting along with it."
He said: "It's clear from some of these incidents that we have to build capacity and improve training and exposure for our officers. We have very good officers but the question is now capacity. Do we have sufficient engineers to maintain the vessels for example? We find ourselves having to go outside to ensure that we are able to access the experience necessary.
"Training is the key and that is why as a government we say we will focus on the human resource and training because it makes no sense spending hundreds of millions on equipment," he said. "I'm not saying accidents won't happen, but it would minimise the chances of these accidents happening when we focus more on human resource and capacity."