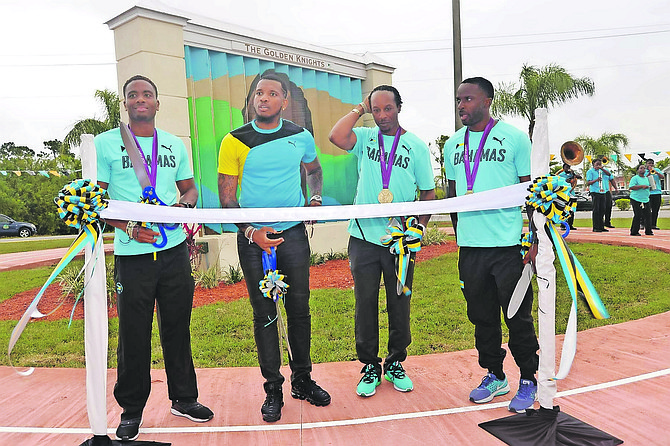 GRAND Bahamians Michael Mathieu and Demetrius Pinder returned home with Eleuthera's Chris 'Fireman' Brown and Nassau's Ramon Miller to be honoured on Monday for winning the men's 4 x 400 metre gold medal at the 2012 Olympic Games.
The Grand Bahama Port Authority and other dignitaries celebrated the team's accomplishment by unveiling a mural in their honour at the roundabout at Coral Road and Settler's Way for their historic performance at the games in London, England.
Sarah St George, acting chairman of the Grand Bahama Port Authority, led the celebrations for the quartet. Among those sharing in the festivities was the Minister of Youth, Sports and Culture Michael Pintard, along with his Grand Bahama Member of Parliament collegiate Iram Lewis and Rev Frederick McAlpine and Senator Kwasi Thompson.
Troy McIntosh, the GBPA city manager, who also won a bronze medal on the men's 4 x 400m relay team at the 2000 Olympic Games with Brown, was present.
The mural, which featured the photos of the four men on the inside of a four-lane track on an asphalt concrete, was the idea of talented artist Jackie Boss.
Jose Construction built the mural wall, Anton Gray of Benchmark Builders constructed the track around the mural and Greg Dames and crew at SSCL installed lines on the track. Dudley Francis and Everett Stubbs designed and oversaw the project.
Latrell Taylor, D'Vontae Forbes, Ebony Kelly, Terrance Jones, Tyler Missick and Devine Parker, who all competed and represented the Bahamas in the CARIFTA Games at the Thomas A Robinson National Stadium where they won medals to help the Bahamas finish second behind Jamaica, were also recognised for their accomplishments.