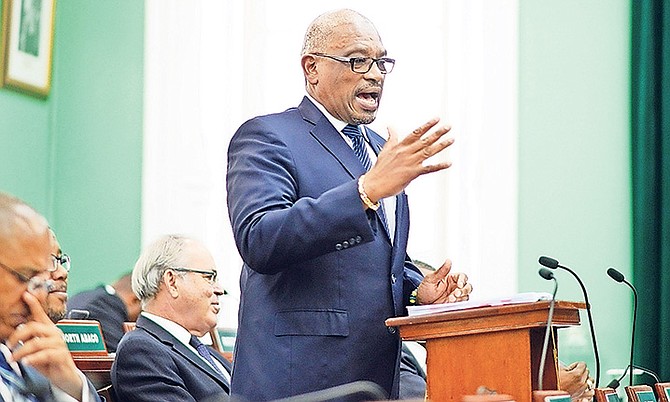 By MATT MAURA
Bahamas Information Services
The Bahamian economy is set to grow by about 2.5 percent during the course of the year, representing what could perhaps signal its best growth in ten years.
"This may be he best growth since the Great Recession of 2008," Prime Minister Dr Hubert A Minnis said while addressing the CEO Network Conference last night at Melia Nassau Beach resort.
"Tourism is doing very well. Both Atlantis, Paradise Island, and Baha Mar, are doing exceptionally well. Our economic prospects are improving, but we must do more to boost jobs and opportunity."
"The wanton corruption of the last five years has ended but we must continue to reform our laws in order to confront a culture of corruption. Our public finances are improving though we are not out of the woods.
"Still, amidst our challenges, The Bahamas is much better off than it was just a year ago when we were headed into an abyss from which we would not have easily recovered. The recovery of our national prospects and our economy has begun and has taken hold."
Prime Minister Minnis said the administration also has a number of exciting tourism and investment projects slated for Grand Bahama.
"We continue to promote investment opportunities in the Islands of The Bahamas. It bears repeating: the restoration of the economy of Grand Bahama is critical for the economic recovery of The Bahamas."
Prime Minister Minnis told the gathering that his Administration has an ambitious infrastructure programme slated for a number of the islands of The Bahamas.
Capital development and infrastructure, Prime Minister Minnis said, are "vital" for the growth of tourism in the Family Islands. A number of key infrastructure projects will be announced during the upcoming budget debate.
He said a number of "very promising investment prospects" are on the horizon that will boost economic growth and jobs. These, he said, will be announced in due course.
"Let me note that while we have to see what happens over the longer term, crime is down in New Providence," he said. "While this is a positive development, we must continue to improve policing and the criminal justice system, while promoting social intervention to help tackle some of the causes of crime.
"Through the Citizen Safety and Justice Programme, we are providing education and training, intervention measures and job opportunities for former offenders and at-risk youth."
The prime minister said his administration is committed to political, social and economic reform and transformation.
"Each of these areas of national life, are pillars of our nation. Political, economic and social reform must work in tandem. By example, economic development requires reform in education and training. Reforming government, an ongoing process, will better help to unleash the potential of businesses and entrepreneurs.
"Economic transformation requires us to combat corruption at all levels of Government because corruption retards economic growth and poses a tremendous burden on Government finances."
.