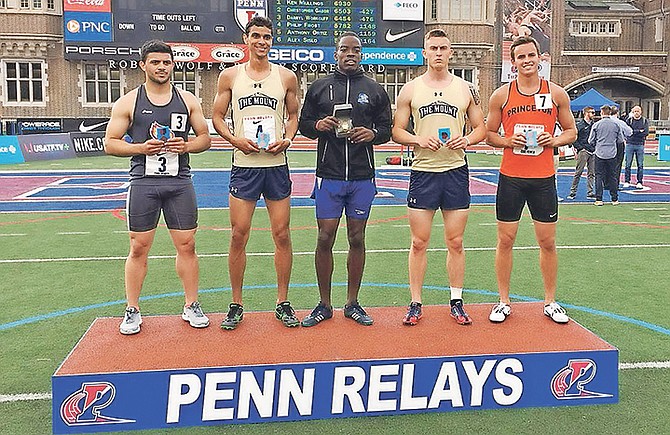 By RENALDO DORSETT
Tribune Sports Reporter
rdorsett@tribunemedia.net
UNIVERSITY of the Bahamas Mingoes star Ken Mullings continues to set milestones and deliver impressive performances in combined track and field events.
Mullings won the gold medal in the college men's decathlon in the Penn Relays at Franklin Field in Philadelphia, Pennsylvania, yesterday.
Mullings posted a total score of 6,930 points, 491 points shy of the national outdoor record.
Christopher Gabor of Mount St Mary's finished 427 points behind Mullings with 6,503 points, and Darryl Workcuff, also of Mount St Mary's, was third with 6,454 points.
Mullings took first place in two of the 10 events. He had the top clearance in the high jump at 1.99m and was first in the 110mH in 15.04 seconds.
Mullings was also second in the 100m (11.13), long jump (7.03m), 400m (50.8) and javelin (49.55m). He finished third in the shot put (12.15m), discus (34.16m) and 1,500m (5:00.84).
He rounded out his numbers in the competition with a clearance of 3.80m.
Mullings continues a stellar 2018 season that also included breaking the Bahamas men's heptathlon national indoor record in February in the 2018 Fred Wilt Invitational in the Lambert Fieldhouse at Purdue University in West Lafayette, Indiana.
The school hosted "Ken Mullings Day" in his honour to commemorate the feat.
In achieving his accomplishment, 20-year-old Mullings shattered the previous indoor record of 4,141 points that was set by Desmond Major at the NJCAA Championships on March 8, 2014, by accumulating a total of 5,059 points.
Mullings, who began his tenure at the University of the Bahamas in 2016 as a physical education major after graduating from CC Sweeting High School in 2015, said his goal now is to shatter the Bahamas national outdoor decathlon record of 7,421 points that was set by Antonio Greene at the Central American and Caribbean Championships in July 1989.
And he indicated that he wants to prove that he can do it as a member of the Mingoes as he indicated that he is proud to be a part of the University of the Bahamas and he's doing his thing right at home.
Once he can improve on his clearance in the pole vault and his run in the 1,500m, Mullings said he can and will add the outdoor multiple event records to his ledger before he graduates from UB.