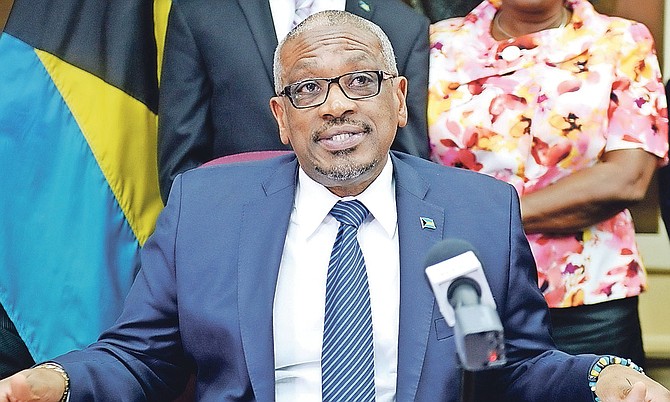 By KHRISNA RUSSELL
Deputy Chief Reporter
krussell@tribunemedia.net
PRIME Minister Dr Hubert Minnis yesterday tabled the long awaited Over-the-Hill White Paper 2018, unveiling his administration's proposed plans for impoverished communities, which include a variety of tax concessions, an action plan for physical rejuvenation along with social and economic empowerment.
Speaking in the House of Assembly yesterday, Dr Minnis said the Over-the-Hill area will become the first empowerment zone in The Bahamas. He explained this concept as one known throughout the world and related to areas designated as such because they were deserving of incentives due to economic hardship.
However, gaming houses and businesses deriving proceeds from alcohol sales will be exempt from the benefits of this zone.
Dr Minnis said the groundwork toward formulating a sustainable programme for the Over-the-Hill community began last October, which means it took the government roughly six months to have a developed plan ready to present to the public.
"The incentives outlined will apply to residential properties – both owned and rented, commercial and industrial undertakings, with an aggregate turnover of $5m or under and all enterprises whose primary income is not derived from the business of gaming or the sale of alcohol," Dr Minnis told Parliament yesterday.
"For those qualified residents and business owners with respect to the redevelopment of land and buildings it is proposed (that there will be) exemption from real property taxes, exemptions from customs duties related to construction, equipping and completing building and structures for a specified period and exemptions from excise taxes."
There will also be exemptions from stamp tax imposed on real property.
He added when it comes to business taxes, all those applicable with the exception of establishments engaging in restricted activity and upon obtaining a trade certificate proving location in the empowerment zone, the government will offer a 100 per cent waiver on the assessed business licence tax.
Customs duties for the purchase of a vehicle with appropriate markings for use by the business will also be exempted, he said.
Dr Minnis told the House good corporate social responsibility is also essential to the success of this programme. He said it was the government's hope to see businesses who benefit from the "generous" incentives give back to the community in beneficial ways.
He added there would be support for small and medium sized businesses, building local businesses and financial literacy in the community and creating opportunities for residents to invest in the cultural assets of the community.
As he highlighted the inner-city community's high incidents of crime and poverty exacerbated by poor infrastructure and growing impoverishment of the environment by dilapidated homes and illegal garbage dumping, Dr Minnis said no government has invested the needed resources to facilitate a turnaround.
He said his administration was determined to change these circumstances by "taking back" the streets of the community by targeting illegal gun possession and introducing the empowerment zone concept, which relates to offering special incentives to area designated as such because of economic hardship.
"We know that the physical environs of Over-the-Hill is not where it should be," he said. "While there are many gems in the community, there are also many rough stones.
"Over the past months, the people have witnessed a massive cleanup effort in the community. We plan to make this more consistent. We need to increase existing waste collection efforts in the community. We are planning to restore public spaces and recreational facilities.
"Two other key aspects of this component include: working on improving housing in the Over-the-Hill community and a 'Water for all Strategy' to eliminate the need for standpipes and outside toilets by 2025," Dr Minnis said.
Better healthcare – including mental and family planning services, childcare options for working parents and support for healthy eating and living initiatives, is also a proposal of the government, he said.
Regarding green technology, Dr Minnis said he instructed the Ministry of Works and the Beaches and Parks Authority to work together to ensure upgrades to parks and to ensure all parks have free Wi-Fi. This he said, is to be accessible to all Over-the-Hill residents.
Two parks in the inner city are scheduled to begin refurbishment in June this year.
Programmes that support both the youth and elderly will also be established, he said.
"Critical to social empowerment is the process to become more self-reliant and to comprehensively address poverty," the prime minister said earlier in his communication to Parliament. "Our programmes will deal with poverty reduction, skills upgrading and job training, supporting employment opportunities for residents, supporting community building, health and wellness programmes and crime reduction."
Dr Minnis said these efforts would involve strengthening the social support system and facilities for families within the Over-the-Hill community. He told MPs officials would be mapping and assessing existing social support services, and then improving access and strengthening these programmes.
The government also plans to work with partners both inside and out of the government to improve the employability of residents. One programme, he said, will feature the facilitation of training residents to gain drivers licences and to assist with other forms of identification.
The white paper further features a community partnership Initiative, which is about partnering with groups already working in the community.
Dr Minnis said the government was not aiming to reinvent programmes or taking them over. As it seeks to work with existing initiatives, Dr Minnis appealed to those already doing positive work to let the government know and officials will to their best to assist.
He also extended an invitation to those in the community who want to do something to reach out to the government.
Through these efforts, Dr Minnis said it was his administration's wish to see a rebirth of values, beauty and economic viability for the Over-the-Hill community.