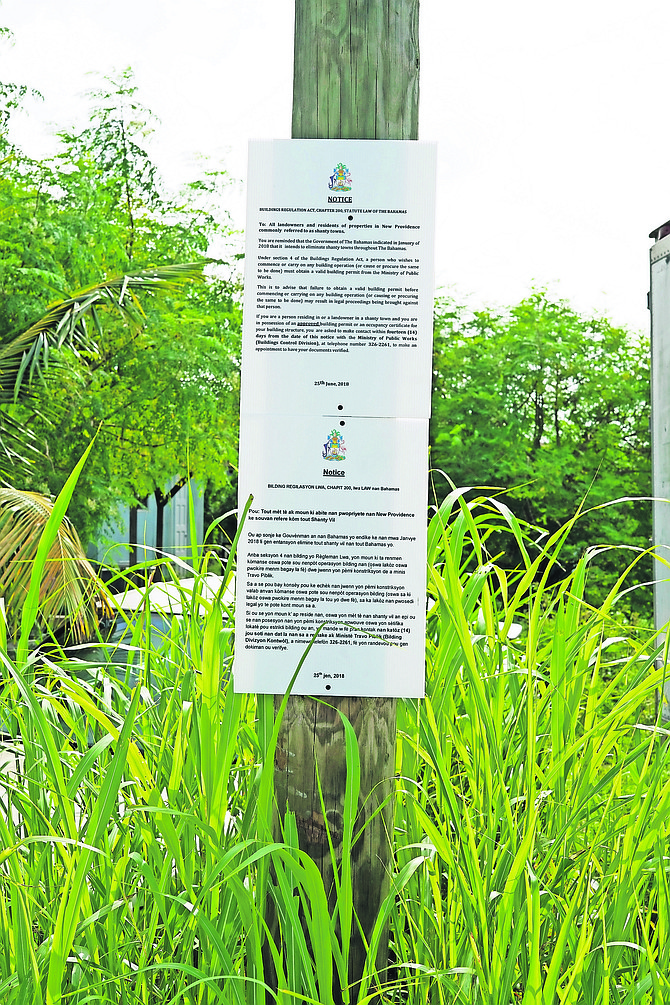 By AVA TURNQUEST
Tribune Chief Reporter
aturnquest@tribunemedia.net
MORE than 100 families are believed to still reside in shanty towns across New Providence with the government's eviction deadline less than two weeks away.
Haitian Pastors League President Dr Jean Paul Charles told The Tribune he expected that number to rise as his group had not included individuals who are living on their own in their count.
However, he said he did not think the number of families still living in all 11 shanty towns in the capital exceeds 150.
Dr Charles said while he believed the government will follow through with its August 10 deadline, he did not think mass evictions will be immediate and there will be more time to relocate families.
"We formed a subcommittee," he said, "and what they have reported (is) we have under 150 families. Those are the people who really need help. By the end of this week that list will be higher, because they only recorded the families.
"We are all on the ground, we are on the same page," Dr Charles continued, "I know they can't be living like that but the process is painful. We try to do anything we can, and as we appeal to the government we are saying the law should be in one hand but in the other hand should be compassion.
"They have been living there for so long, if they are qualified and have the money, why not allow them an opportunity to purchase? The government is politics, but the Bahamian people at large I think would do that.
"It will be the deadline, I think the government will respect the deadline. But I don't think they will just do everything in one day, I think they will start exactly on August 10 and still see how we can relocate those people."
Residents in New Providence were given until August 10 to vacate their homes before the structures are bulldozed, while evictions for those in Abaco are slated for next year.
The Haitian Pastors League's appeal to the government for residents to be given first preference to purchase the land echoes suggestions made by Haitian government representative Karl Henri Chatelier to local media last week.
Mr Chatelier's remarks elicited a harsh rebuke from the Ministry of Foreign Affairs, which stated it would not tolerate external interference in Bahamian domestic affairs.
His suggestions, as first assistant secretary in the Haitian Embassy, included: renovations that will bring shanty town residences up to building codes, leasing the land, and extending the eviction deadline.

Meanwhile, approximately 200 residents of shanty towns in New Providence and Abaco, with a non-governmental organisation called Respect Our Homes Limited (ROHL), have expressed intent to fight evictions in court.
Their attorney Fred Smith QC has asked the government to stall shanty town evictions pending looming court action - but it was rejected by Attorney General Carl Bethel.
Yesterday, Labour Minister Dion Foulkes reiterated the August 10 deadline was "irrevocable".
He also reaffirmed Prime Minister Dr Hubert Minnis' mandate that the reclaimed land be used for government low cost housing. Mr Foulkes stressed access to these subdivisions will be made available to all Bahamians, with no special preference for any group.
"We are advised that all of the land that's involved with this matter is owned by the government," said Mr Foulkes, who heads the Shanty Town Action Task Force.
"All 11 of the shanty towns (in New Providence) without exception are leased land and leased for farming purposes. There is absolutely no authority for any of the residents to build a home.
"We are conducting an intensive and thorough investigation with respect to lands and surveys and the building controls division of the Ministry of Works to ensure that that is the case. We want to make sure that the government conforms with all of our laws and regulations in the country.
"With respect to Rights Bahamas and their attempt to take this matter to court, that is their right. We live in a democratic society and any group or any individual who resides in The Bahamas can access our courts, but as you know the attorney general represents the government and we are confident that we are standing on good legal grounds."