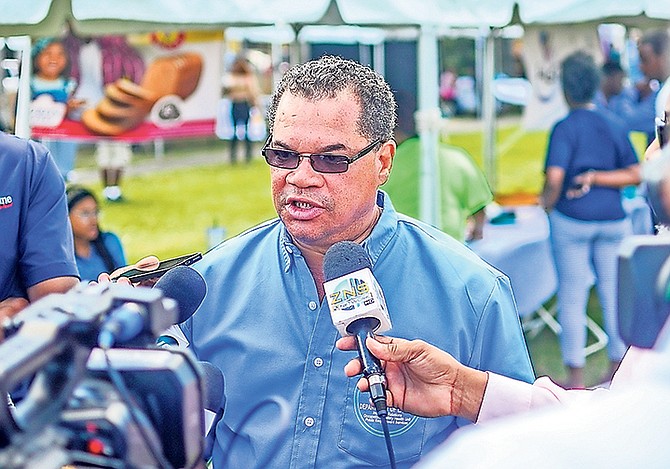 By RASHAD ROLLE
Tribune Staff Reporter
rrolle@tribunemedia.net
PARTS of two shanty towns in New Providence will escape the government's demolition exercises this month because of the code worthiness of its buildings.
Altogether, nearly 30 buildings in the All Saints Way shanty town off Golden Isles Road and the Bedrock shanty town east of Bacardi Road will not be demolished, according to Labour Minister Dion Foulkes, head of the government's shanty town committee.
As for individual buildings that are up to code in other shanty towns that are surrounded by non-code worthy structures, Mr Foulkes said Cabinet will decide on Tuesday what to do with them.
"There is one home in particular off Bacardi Road, a very nice home, it is built to code and it is owned by a Bahamian of several generations," he said. "That's a decision Cabinet will have to make in terms of how we are going to approach that. There's also another that's similar to that. Problem with the second one is the offsets for the building control division, that home does not meet the offsets in terms of the distance to other homes. That one is a little different."
As for the areas that will be preserved, he said: "All Saints Way off Golden Isles Road is built and structured like a regular subdivision. Most of the homes are very nice homes. Some of them have building permits. Most are code worthy. We have decided to leave that particular area out of this exercise. The second area is Bedrock which is off Bacardi Road, it's on the eastern side of Bacardi Road. All of the homes are code worthy and they are very nice homes that have been built. We've decided to leave that out of this exercise. There are some individual homes in various shanty towns that are code worthy and some that have BPL connections and cable connections. Those are more difficult to deal with because they're surrounded by homes that will be demolished. With the exception of those two areas, all of the other areas will be removed."
Accordingly, the government is considering options for regulating the communities whose homes won't be bulldozed, Mr Foulkes said. 
He said ahead of the August 10 eviction deadline, utility services in shanty towns will be disconnected. 
Jennifer Delancey, chief health inspector in the Department of Environmental Services, said 259 orders have been served with respect to derelict vehicles in the shanty towns – they have all since been removed. Mr Foulkes said it costs $60 to remove each vehicle. He stressed that the government has incurred no expense through its shanty town efforts, noting removal of derelict vehicles is something the department "does anyway."
It's not clear how many people remain in the shanty towns as of yesterday, though Mr Foulkes said most have left the areas. In one shanty town, off Lazaretto Road, "only two families are there now out of 30 and I think one is moving today," he said.
As for people with special needs, officials have identified 15 such families that will be assisted by the Red Cross, he said.
"Some of them have left the shanty town area. Some have not. Some are really sad cases but we really don't want to personalise it."
Ultimately, the government is standing firm by its August 10 eviction deadline.
"This is a very historic effort and if we are successful and I believe we will be, it will probably be the first time this has been done successfully in the world," Mr Foulkes said. "Many countries have tried it. The most famous case is in Brazil, where Brazil attempted to get rid of its communities and it was a complete disaster.
"We think we have covered every aspect of what we have to do from a technical point of view and also from a human relations point of view."
More like this story