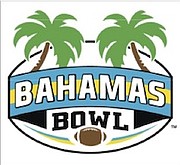 ELK Grove Village, using its business slogan - Makers Wanted - has been announced as the title sponsor of the Makers Wanted Bahamas Bowl, to be played December 21 here in New Providence.
The Makers Wanted tagline serves as a call-to-action for Elk Grove Village's thriving community and the thousands of businesses that are based there.
"Elk Grove Village is home to the largest industrial park in the United States, spurred by our village's commitment to being beyond business-friendly," said Elk Grove Village Mayor Craig Johnson.
"Our relationship with the Makers Wanted Bahamas Bowl and ESPN Events is a perfect opportunity to use college football to share our message with the entire country.
"We were impressed by how the bowl game has been developed in the Bahamas over the past four years, and we share in the excitement that this event brings to their community."
This is the first time a non-tourist municipality has ever sponsored a bowl game, and the sponsorship highlights the innovative thinking found in Elk Grove Village.
With unparalleled transportation options for manufacturers and a town that is truly committed to supporting its industrial park tenants, Elk Grove Village has become a destination for businesses from across the United States.
"We are excited to have Elk Grove Village as the title sponsor of the Makers Wanted Bahamas Bowl," said Richard Giannini, Executive Director of the Makers Wanted Bahamas Bowl. "It is a unique sponsorship that allows Elk Grove Village and its thriving business community to take the Makers Wanted message to a national audience on ESPN. We thank Mayor Craig Johnson for his innovative vision, and we look forward to another great bowl game this year."
The agreement between ESPN Events and Elk Grove Village was brokered by Denver-based Impression Sports & Entertainment (www.impressionsports.com) for ESPN, and Banner Collective along with 4FRONT for Elk Grove Village.
The fifth-annual bowl game in Thomas A. Robinson National Stadium will feature teams from Conference USA and the Mid-American Conference and will be broadcast nationally in the United States on ESPN.
For more information on the 2018 Makers Wanted Bahamas Bowl, visit MakersWantedBahamasBowl.com. The game is one of 14 postseason bowl games owned and operated by ESPN Events, a division of ESPN.