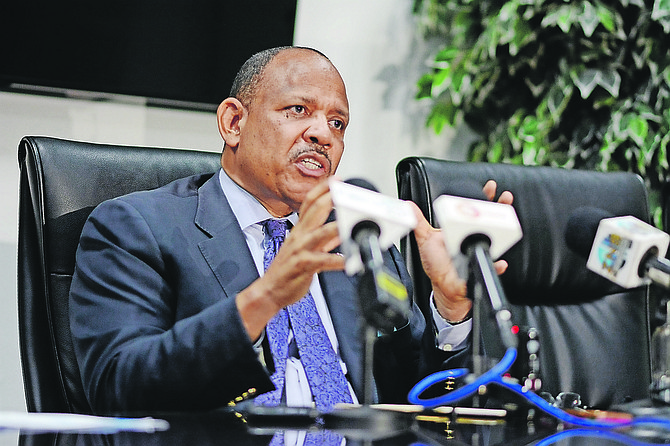 By FARRAH JOHNSON
HEALTH Minister Dr Duane Sands said the recent trend in traffic fatalities has raised public health concerns regarding how drivers practice road safety.
His comments came hours after a motorcyclist in New Providence died in a traffic accident on Tuesday, bringing to six the number of traffic-related deaths since Friday.
In an interview with The Tribune yesterday, Dr Sands said evidence from the last ten years indicates there has been an increase in traffic-accident related injuries, about which all "right-thinking Bahamians" should be concerned.
According to Dr Sands, the rise of injuries recorded during this period includes both serious and minor ones, as well as incidents which led to loss of life.
"Given this reality and the impact on the health system and on the health of patients, we want to remind the public of the evidence that texting or using a telephone while driving is not a good idea. We're concerned about the inconsistent use of seatbelts and especially the challenge with infants not being in the appropriate safety seats," he said.
Dr Sands said the bottom line is when people get involved in serious traffic accidents, they end up in hospitals, clinics, or, in severe cases, the morgue.
He added these factors have "direct implications for the health care system inclusive of emergency medical services".
"From a public health point of view, there are specific challenges about driving under the influence, driving with excessive speed, and now in the era of technology, driving while texting, whatsapping, instagramming, or whatever other utilisation of that thing that people like to have in their hands and it is seldom that you will drive past somebody who is not on their phones," he said.
Tuesday's traffic fatality happened shortly after 5pm on Sutton Street off Kemp Road, involving a white Ford E350 van and a red and black SYM motorcycle. The driver of the motorcycle, who suffered serious injuries, was taken to hospital, where he later died. The driver of the van, who was not injured, remained at the scene and is assisting police with their investigations.