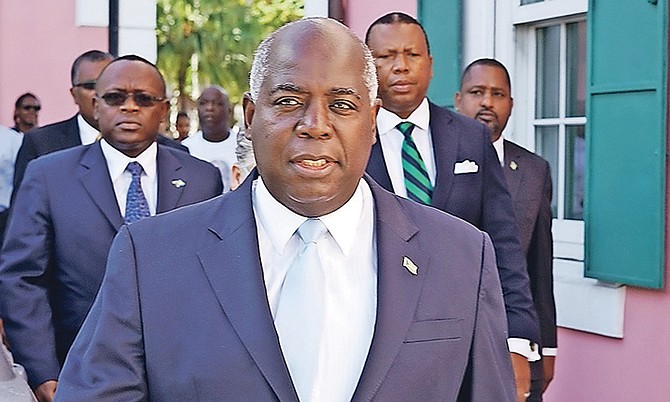 By RASHAD ROLLE
Tribune Staff Reporter
rrolle@tribunemedia.net
OPPOSITION Leader Philip "Brave" Davis has dismissed criticism levelled by developer Paul Wynn on the Progressive Liberal Party's efforts to get him to purchase the Grand Lucayan resort as "gratuitous".
Amid the Minnis administration's difficulty selling the property, the PLP repeatedly argued it left a solid deal in place with Mr Wynn before the 2017 election.
But in an interview with The Tribune this week, Mr Wynn said "there was no deal with the prior government."
"The deal was vague and nebulous," he said, "and they were throwing a lot of money at me that was unconscionable. It's prior to the election, need I say more? I don't want to be that person."
In a press statement Thursday, Mr Davis said the comment "cast aspersions on the PLP administration."
"The PLP rejects this unfortunate intrusion into our local politics by a foreign investor but asks the public not to be distracted by this unnecessary and irresponsible comment," he said.
"The important point in Mr Wynn's statement is that there was in fact a framework left in place by the PLP. Clearly negotiations had to be continued. Since the election intervened in the process, it was left for the FNM administration to complete the negotiations. The FNM owes the Bahamian people an explanation as to why they were unable to close the sale, particularly where the last several months they were elevating the hopes of Grand Bahamians of an eminent closing of the sale."
During his national address in July 2017, Prime Minister Dr Hubert Minnis said the government would get the Grand Lucayan reopened by the winter season. Its target date long missed, the future of the hotel is clouded in doubt.
The government has said it would buy the hotel rather than let it die. But that position has invited criticism in view of the government's austere fiscal policies.
Mr Davis said: "What is also relevant is that the prime minister and his minister of finance were going around saying the country is broke and now they say they are going to have to buy a hotel which the developer Mr Wynn thinks will cost over $150 million to complete. The PLP is not the government. It is the FNM that must solve this problem. All they had to do was build on the framework which we left in place. Instead they stopped, reviewed and cancelled and ducked and dodged so that now we have complete collapse with no light at the end of the tunnel."
It is believed that CK Property Holdings/Hutchison Whampoa, owner of the Grand Lucayan, lost between $15-$20 million per year before the property closed down in the wake of Hurricane Matthew.
With the hotel's closure, Freeport has seen 59 percent of its room inventory taken out of stock.
Mr Wynn said it would be costly creating the context in which the resort could thrive in Grand Bahama, adding potential purchase of the hotel lacked "economic feasibility."