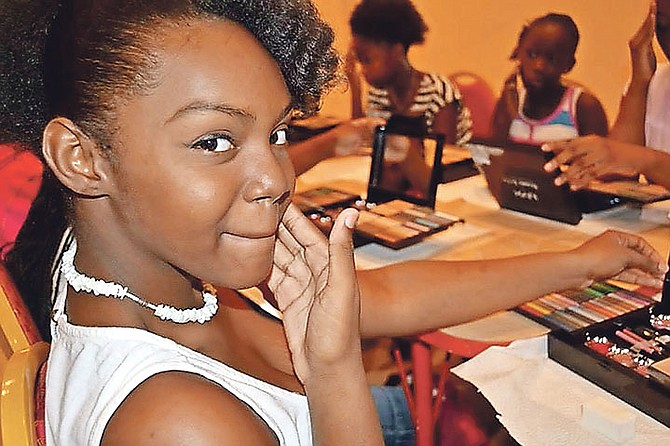 By ALESHA CADET
Tribune Features Reporter
acadet@tribunemedia.net
When thinking of a boot camp, you will probably envision some sort of military or harsh disciplinary training programme. This is certainly not the case for the popular Eye Candy Summer Makeup Boot Camp.
With two sessions being held this month, organisers said the only training taking place will be "whipping teens in line to ensure their makeup is all right."
"The camp started in 2010 as a personal call to invest in our young girls in grooming, etiquette, modelling, and to also hone the skill of young makeup artists. This camp is going on eight years, and wow I can't believe it. I get so excited when it's this time of year because each year we get a new bunch of girls with new personalities and talents. It is loads of fun," said Italia Wilson, owner at Eye Candy Makeup Store and Studio.
The first session - taking place at the The Meeting Lounge, Carib and Chesapeake Roads - officially kicked off on July 30 and will continue through August 30. The second session will begin on August 20 and run until August 24.
Italia describes the camp's highlights as "makeup, makeup and more make up", and that includes glam looks, special effects as well as photo shoots at the end of each week.
"As a teen I was involved in several youth programmes. In church it was called YPE (Young People Endeavour), Girls Brigade, and eventually the Police Cadet programme. In all these groups I was fortunate to be a part of something that groomed young people, and met men and women who gave their hearts to help young people. I believe the seed was sowed then and I have since been passionate about sharing and sowing into our young women," said Italia.
She said the majority of the girls take part in the makeup boot camp for two reasons: to seek help in crossing a threshold from teen to young lady, or they are simply passionate about the art of makeup craft and girly activities.
"We have parents who have seen tremendous change in their young teens who weren't interested in 'fixing' themselves or were too boyish. We have also groomed many who are now working makeup artists in the business. I believe that one should live your best life now. For me that means following my dream and being obedient to what God places in my heart to do. The camp came to me as one of those things God wanted me to do, so I'm just being obedient and at the same time following a passion and giving to our young people who need it," said Italia.
All interested readers, can register for the boot camp at the Eye Candy Makeup Store located in the Harbour Bay Shopping Plaza, or call 393-2989 and 326-2989.