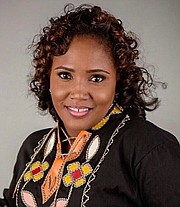 By Felicity Ingraham-Darville
A few weeks ago, one of the most renowned Pan-Africanists in the world graced our shores. He is so well known, not only for his booming voice and strong delivery, but also for the hard-hitting messages he brings which aim to empower people with the knowledge he feels would liberate them from mental slavery.
Pan-Africanism is a worldwide intellectual movement that aims to encourage and strengthen bonds of solidarity between all peoples of African descent. It holds that African peoples, both on the continent and in the Diaspora, share a common history as well as a common destiny. It is based on the belief that unity is vital to economic, social and political progress and aims to "unify and uplift" people of African descent.
The Bahamas is home to a population which is comprised of more than 80 percent of the people being of African descent. For this reason, Dr Umar Johnson was invited by Christopher Davis and Tamara Scavella of African Glory (Ebube) to come and speak and inspire and uplift the growing number of Pan-Africanists in the country.

I thought it fitting to tell the story of Umar while celebrating the Emancipation Day holiday. I also honoured Africa during my wedding ceremony this weekend. All too often, we are happy for a holiday, but we don't put any significance on why we observe the holiday – especially Emancipation Day. Hopefully this column helps to spark an interest in readers to discover more about their African roots and connect to the motherland in order to understand themselves better.
For Umar, it seems becoming one of the most wanted speakers on the subject of African people worldwide was a calling placed on him from childhood. In the fourth grade, he had a teacher named Mrs Greene who taught an African American history class, and made it exciting for him to learn about the great people who paved the way for him. Meade Elementary in Pennsylvania (where he was born) would host black history oratorical contests which Umar won in the fourth and fifth grades.
Umar shared: "I recently ran into my classmate Johnathan Grant who said, 'I am not surprised! You were into that (Pan-Africanism) in elementary school'. I said what? He said you were talking 'black talk' from the fourth grade. I didn't even know. I knew I was learning it but I didn't know that I was about that life already. But according to his recollection I was."
History may have been boring to some, but the young Umar was always fascinated to learn about people like Malcolm X, Martin Luther King, Nat Turner, Harriet Tubman and so many others. One particular history maker moved him to the core when he found out he was related to him – Frederick Douglass.
Frederick Douglass (born Frederick Augustus Washington Bailey, (1818–1895) was an American social reformer, abolitionist, orator, writer, and statesman. After escaping from slavery in Maryland, he became a national leader of the abolitionist movement in Massachusetts and New York, gaining notoriety for his oratory skills and his incisive anti-slavery writings. It seems the late great Frederick passed on his spirit to Umar, who continues in the work of his ancestor.
Finding this out as an adolescent though, was one of the most compelling moments of his life: "My father took me to a family reunion in Baltimore. We were walking in the back of this church and there was all this Frederick Douglass stuff – everything. His Bible, his clothes, even his cigar. I had learned so much about Frederick Douglass in Mrs Greene's history class. I asked why all his stuff was here. My father answered in a very nonchalant way: 'Because you're related to him'. That gave me an even greater sense of obligation; the rest was history."
Umar grew up with his mother and father as one of their 11 children in Philadelphia on the northern side of the city in what he calls "a typical inner city". His parents were married for a time and he considers himself to have had a "traditional upbringing". But he learned independence quickly when in the 8th grade, he went to boarding school - called a residential school back then.
He told me he has always been a thinker and a reader. He attributes his current status to the many elders that poured wisdom into his life from an early age and spoke greatness over him, including his aunts and uncles, elders in the community, teachers and the like.
"My grandmother would say I am an old soul; she would say I am a very plain guy because I don't really party," he said, sombrely, adding his grandmother passed away in April at the age of 80.
"I just like to sit and watch and learn and it doesn't take a lot to keep my interest. I was very blessed to receive a lot of encouragement and insight from the elders. That intensified after I graduated from undergrad and joined the UNIA (United Negro Improvement Association founded by the Rt Hon Marcus Mosiah Garvey) in Philadelphia. Most of the members were elders and I was constantly baptised in their wisdom."
"Those lessons I learned, both good and bad, directly and indirectly helped to prepare me for what I would later experience once my rise - for lack of a better word - in African consciousness began," he said, adding that he was one of the youngest members of the UNIA in his state.
Through this opportunity of being actively involved in the UNIA, his first Africa tour came about. As a member, he was at an exoneration programme for Marcus Garvey, led by Dr Julius Garvey, when he was encouraged to travel to Africa to help inspire the many branches throughout the continent. He saved up and paid his own way as Minister of Education for the UNIA, but he was greeted by and taken care of by the UNIA members he met every step of the way and considers it a spiritually uplifting and life changing experience.
He travelled on July 1, 2005, and spent a month on tour, starting off in Ethiopia. He touched South Africa, Nigeria, Senegal and other places, reaching all four regions of the continent. But while at Gory Island, Senegal - where Africans were captured, enslaved and taken in ships to the western world - he had a spiritual experience that still marvels him to this day, where he could hear the screams and the cries of those who suffered.
He got answers about that experience when he returned to the USA and visited the Oyotunji African Village in South Carolina. There, Chief Oleitan named me after Ogun "Ifatunde" – the Yoruba god of iron, metal, pure power, strength, energy, perseverance and persistence.
"Chief Oleitan is the priest you see in the Nat Turner movie "Birth of a Nation" by Nate Parker," Umar explained.
"Nat Turner's mother brings Nat to this chief. The ladies are drumming and dancing and he gives Nat a reading. That was a very surreal experience for me because I was there watching it and I am like, I know this voice! I looked and said - that's chief! And it was so surreal because I was born on the date that the Nat Turner war began - August 21, 1974, and Chief Oleitan gave me my first reading and I am watching him on TV giving Nat Turner his first reading. It was just a movie but it was very surreal for me. Nat Turner is surreal for me because the first time I visited the Nat Turner land was 11/11/ 2011. I later found out that Nat Turner was actually hanged at that spot on 11/11/1831. I think he and I are related on some level, maybe not biologically but on some sort of a spiritual level."
His connection with the ancestors runs even more deeply – George Washington Bailey, the first black public school teacher in easternshore Maryland and cousin of Frederick Douglass is his great-grandfather three times removed. It seems a love for education runs deep in his veins. Umar spent eight years at Millersville University in Pennsylvania – five years as an undergrad and three years as a graduate, earning a Master's degree in psychology and political science. He then attended the Philadelphia College of Osteopathic Medicine where he earned his doctorate.
"I always wanted to be a psychologist from I was a kid," Umar recalls.
"I am a helper, like my mom. I always wanted to put smiles on people's faces. As a therapist, we would clock about 40 clinical hours a week, which means we only got to help about 40 people a week. As an educator, an assistant vice principal and then principal, I had the opportunity to impact hundreds of kids daily – and their parents would come to me and tell me of the positive changes in their children."
He eventually left the educational system because he felt principals were not given the authority to run their own schools. He continued his work of defending the poor, disenfranchised and continuing to fight for proper education for African Americans when he made two media appearances that set him on his current path as a world renown speaker and motivator on the subject of Pan Africanism. There was a Chicago public television interview in September of 2010 followed by a lecture in Harlem, New York, that October, where he brought tapes of the September interview in Chicago.
"In 48 hours of that interview in Harlem, I was literally known around the world," he said.
I went from seeing only area codes 215 and 610 on my caller ID to getting calls from Africa, Australia, London, the Caribbean and every state in America. It was overwhelming but in a positive way. By 2011, I was doing a radio or television interview almost daily. I believe it was destiny because I didn't expect it to come."
Umar has two main objectives. He is determined to open his own school and to do something on the African continent with regards to African liberation. While touring The Bahamas last month, he spoke at the University of The Bahamas and Akhepran International School in Fox Hill. He felt a spiritual cleansing and rejuvenation when he swam in the salt waters in Cat Island and San Salvador, describing the pristine conditions that he wishes to return to when he continues the writing of his book, "Unapologetically African".
"The Bahamas trip was a memorable one for me," he said in Face to Face.
"I will never forget it. The salt water bath was good spiritually. It's a place where you can go for quiet and deep soul searching."