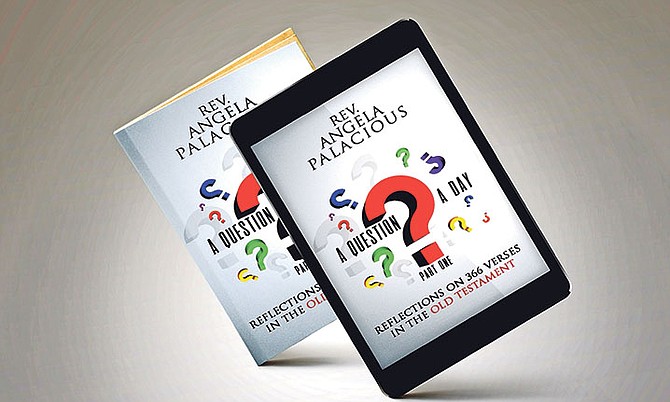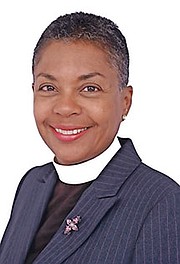 By JEFFARAH GIBSON
Tribune Features Writer
jgibson@tribunemedia.net
THE route to ultimate intimacy with God looks different for many people. Some take this journey of developing closeness with God by attending church regularly, connecting through praise and worship, singing hymns and praying. Others also seek connection with God by studying the Bible, but sometimes get discouraged or find decoding its messages difficult.
A new daily devotional written by Tribune contributor Rev Angela Palacious called "A Question A Day - Part I" aims to help people study the Bible in an organised and systematic way.
On May 11, 1999, Rev Palacious made history when she became the first woman to be ordained as deacon in the Anglican Diocese of Nassau's 138-year history. At the same and she and her husband, who at the time was rector of St. Matthew's Church, became the first ordained husband and wife team in the region. On May 31, 2000, she was ordained as the first Bahamian woman Anglican priest of the Diocese of the Bahamas and the Turks and Caicos Islands.
Her new book, Rev Palacious told Tribune Woman, is for the reader who is curious about the Bible and needs an introduction. Or, can also be used as a tool to help read through the Bible in a year.
"It is a Bible study using actual questions that occur in the Old Testament but written from a Christian perspective. The questions vary in subject matter addressing issues such as: faith, prayer, parenting, suffering, anger, disappointment, forgiveness, healing and just about every human condition and emotion," she said.
This guided devotional, she said, challenges and inspires you to continue the diligent search towards personal and communal growth through godly principles.
For each day, Rev Palacious' book references a biblical verse, provides a comment, and then poses a personal question. In response the reader is encouraged to explore some of life's deepest queries, and take note of their thoughts and feelings for future introspection and reflection.
"A Question A Day" also makes way for discussions with a spiritual guide, prayer partner, or small group.
"The overall message is that God loves us, is trustworthy and is a healing and forgiving God. It is a call to faith for those who are not believers and a call to re-commitment for those who are. It is also an invitation to hear God speak to you as a unique individual and as such, the message will be both general and specific," she said.
And in a matter of weeks, part two of the book well be released. It will centre on the New Testament.
"I want readers to glean that faith is a vital foundation for life, and that an individual response within a faith community is imperative. The biblical question posed, my comment and the personal question put to the reader for application, they are all intended to confront the reader with powerful truths that are transformational in thinking and life-changing in attitudes and actions," she said.
The New Testament study is already available on Amazon as a Kindle edition and will be in local stores toward the end of the summer.
Angela Palacious is a priest and counsellor, a newspaper columnist and author, and sought-after speaker in the Bahamas. She is the first female priest ordained in her country and currently serves as the Anglican Hospital Chaplain in Nassau, ministering in public, private, and geriatric hospitals, as well as the detox unit and female correctional facility. Married for 37 years, she is a mother and new grandmother, who is still able to make time to swim, read, garden, travel, and care for two dogs and a cat.