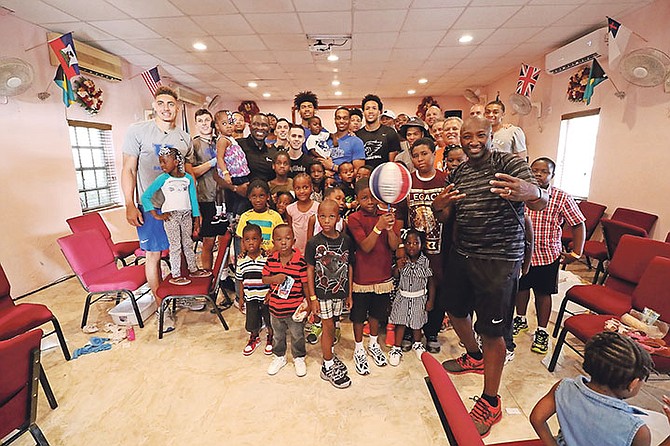 By RENALDO DORSETT
Tribune Sports Reporter
rdorsett@tribunemedia.net
THE Kentucky Wildcats men's basketball programme launched their Big Blue Bahamas Tour with a community outreach initiative.
The Wildcats partnered with Samaritan's Feet International to conduct a free shoe distribution to children in the Fox Hill area at Faith Assembly of God, Johnson Road and Scott Alley.
Team members and head coach John Calipari washed the feet of over 150 children and supplied them with new pairs of socks and sneakers.
Emmanuel "Manny" Ohonme, founder of Samaritan's Feet International, continues the work of outfitting those in the same socioeconomic situation he faced as a young boy in Nigeria.
"Sometimes the kids we think are underserved and underprivileged are sometimes the ones that are the key to helping us transform our future. Being a child that was supposed to be an underprivileged kid myself who grew up poor and not having food, much less shoes, a missionary gave me my first pair of shoes when I was nine years old. It was then I realised that I am blessed. As I came to America to play basketball and pursue my career and did all the things I had to do. My father passed away and when I went back to Africa I saw the need," Ohonme said.
"I thought somebody had to do something about it and I realised over a billion and-a-half people were infected with diseases because they didn't have shoes. So, we started this to equip those children. I believe the Bahamas may have some of the most joyous amazing young people that will be able to one day help us transform and change the world."
Samaritan's Feet seeks to inspire hope through the gift of shoes, the act of washing feet, and encouragement to those who need it most.
According to the organisation's website, Samaritan's Feet and its partners have distributed over 6.5 million pairs of shoes in 91 countries and 366 US cities since its founding in 2003.
It marked the second time the Wildcats partnered with the organisation during a visit to the Bahamas.
Calipari leads his team on the Big Blue Bahamas Tour, a four-game eight-day trip, August 6-13 where they will face several professional teams at the Imperial Arena.
"I have great kids. I have some older players, some veterans, last year we had all freshmen. But we have some veteran players really good players but that doesn't mean you're going to be a really good team. This is where we find out how those pieces fit together.
This trip gives these guys a chance to bond, do activities together, have meals together and play some intense competition. Let's see how they respond and what they learn about each other."
Headlining the 2018-19 class will be McDonald's All-Americans Keldon Johnson (No.9) and Immanuel Quickley (No.21) alongside EJ Montgomery (No.10) and Tyler Herro (No.39).
Sophomores PJ Washington and Quade Green have returned to the programme, with the addition of senior Reid Travis to supplement the loss of three of its top four scorers (Kevin Knox, Shai Gilgeous-Alexander, Hamidou Diallo and Jarred Vanderbilt) to the 2018 NBA Draft.
The Bahamian national select squad, primarily comprised of players from FIBA World Cup Qualification and CAC Games teams, will be the first test for Kentucky at 7pm tonight.
The team follows with games against San Lorenzo de Almagro (Argentina) August 9 at 7pm, Mega Bemax (Serbia) at 7pm on August 11 and Team Toronto at 4pm on August 12.
Team Toronto will feature a group of top select Canadian players put together by head coach Roy Rana, who led the 2019 U-19 Canadian team to the gold medal at the FIBA World Championships.
All games will be broadcasted live on ESPN's SEC Network. The ESPN college basketball crew of Tom Hart, Seth Greenberg and Dan Dakich will be on the call.
Kentucky's Big Blue Bahamas tour is a joint venture between Complete Sports Management and the Bahamas Basketball Federation.
The Wildcats have travelled to the Bahamas twice under Calipari.
Prior to the 2014-15 season, Kentucky competed at the "Big Blue Bahamas Tour" with games against the Dominican Republic national team, Puerto Rican national team reserves and Champagne Chalons-Reims Basket (France) at the Kendal Isaacs Gymnasium.
Kentucky went on to post a 38-1 record that season which included an undefeated regular season, SEC regular-season and tournament titles, and a trip to the Final Four.
The 'Cats returned in 2016 when they defeated the Arizona State Sun Devils 115-69 in the Atlantis Showcase at the Imperial Arena.
In conjunction with the tour, the programme will host the seventh annual "John Calipari Basketball Fantasy Experience."
Kentucky finished last season 26-11 and advanced to the Sweet 16 round of the NCAA Tournament.