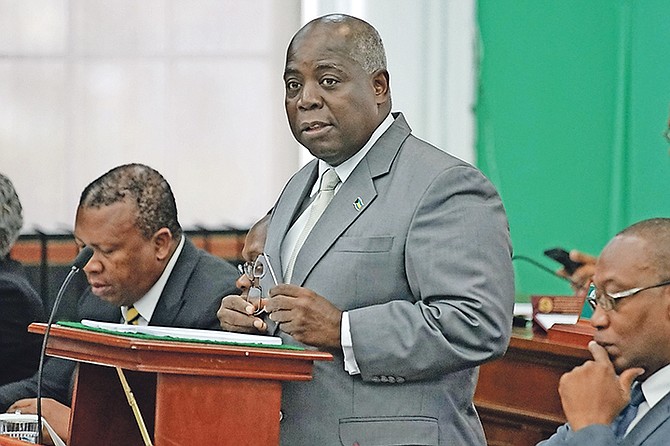 By RASHAD ROLLE
Tribune Staff Reporter
rrolle@tribunemedia.net
PROGRESSIVE Liberal Party Leader Philip "Brave" Davis says the Minnis administration's shanty town eradication policy lacks resolution, sensitivity and coherence. 
"Shanty towns must be eliminated but with resolutions and sensitivity," he told The Tribune.
"The current process seems more about public relations, seeking to (confuse) the public with a lot of activity but no action. Resolution would be that they would have moved this morning to set aside the injunction. Sensitivity would mean that they had a plan in place to deal with displaced persons. The present plan lacks those characteristics. It's the government's methodology that is lacking. We support the objective and not the methodology."
Mr Davis' comment came after the Supreme Court ordered the government and utility providers to halt planned service disconnections or evictions in shanty towns, set for August 10.
It's not clear how long the injunction will be in place.
Mr Davis, during his monthly press conference, also criticised the government's intention to spare two shanty towns from demolition because the homes therein are built to code.
"The policy is incoherent, destroying shanty towns," he said. "What criteria, how do you define criteria? Would you say Arawak Cay is a shanty town? Or Potter's Cay? To say that homes in a shanty town will escape being destroyed because of whatever reason, it was not a shanty town in the first place if that be the case. It just shows an incoherency of the policy."
As for the injunction imposed on the government's plans to demolish unregulated communities, Mr Davis said on principle he disagrees with injunctions imposed against governments based on ex parte hearings. The government and lawyer Fred Smith dispute whether the weekend hearing before Justice Cheryl Grant Bethel was ex parte, where a judge makes a decision without all parties present, or inter parte, however.
Mr Davis said: "I'm always concerned when a court would grant an injunction ex parte against the crown or any government. There is a presumption that all governments act and will conduct itself in the public good and in the public interest. That's the presumption. I have always thought during my heyday of practice that when you're suing the government and you're seeking an injunction against the government at the very least what should happen is the government should be made aware of what's going on and be present. It should never be ex parte.
"We understand the concern of the urgency of the matter but judges ought in my view seek to at least have the crown present when injunctions are being sought. You call the other side in and the other side normally would give an undertaking, will not proceed with in this instance the breaking up of homes until we are heard.
"Another mechanism is the granting of a conservatory order until you could hear both sides as to whether or not an injunction should be granted. Again, judges, they have their discretion how they exercise it but I'm always concerned when ex parte injunctions are issued against a government."
Mr Smith made an ex parte application seeking an injunction on the government's move to demolish shanty town homes. However, Attorney General Carl Bethel has queried Mr Smith's interpretation of what happened.