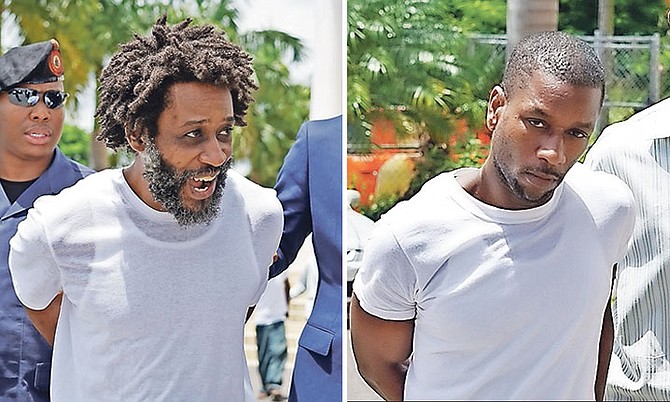 By RICARDO WELLS
Tribune Staff Reporter
rwells@tribunemedia.net
ONE of two men arraigned yesterday in a Magistrate's Court in connection with a thwarted escape plot at the Bahamas Department of Correctional Services admitted he used a piece of steel from a prison bathroom to cut a hole in his cell's ceiling over a two-month period. 
Mario Taylor, 36, and Fred Lifaite, 45, appeared before Magistrate Kara Turnquest, charged with attempted escape from the facility and damage in the amount of $900 for a portion of the ceiling.
It is alleged the men, being concerned together between Tuesday, October 3, 2017, and Friday, August 3, of this year, conspired to escape their A-block cell at the facility through a hole dug into the ceiling.
In a statement on the incident earlier this week, Minister of National Security Marvin Dames confirmed the hole was discovered in the male dormitory during a routine check shortly before 1pm last Friday.
Taylor entered pleas of guilty to both offences and in his address to the court, took full responsibility for the acts, insisting that he both plotted and executed the offences alone.
Taylor, who was committed to prison last October for an undisclosed offence, said he has battled "personal problems" since being sentenced.
He explained his time in prison has been hard, suggesting medical issues with an aunt and other family matters have taken a toll on him, placing him in a frame of mind in which he "wanted to assist".
Taylor admitted he removed a piece of steel from a bathroom at the facility and moved it to his cell.
He told the court he hid the item in a section of the ceiling he had access to. He later added that over the course of two months, he used the steel to chip away at the ceiling while his cellmates were out in the yard.
Taylor, in agreeing to the details of his offences, admitted he used three buckets left in his cell to reach the ceiling.
He also acknowledged he would hide his efforts using a curtain to prevent passing officers and prisoners from looking into his cell while he carried out his plot.
Taylor said once he was successful in creating an area to enter the roof, he did so on two occasions to hide a bag of clothes and to further attempt to cut into the facility's metal roof.
He said he was unsuccessful in his attempt to carry out the latter.
In their discovery of the hole, prison officials said they also discovered a garbage bag with a rope made of cloth.
Taylor was sentenced to three years for the attempted escape and two years for the damage to the ceiling.
The sentences are to run concurrently.
He has been given seven days to appeal the ruling.
As for Lifaite, he entered not guilty pleas to both charges.
The court adjourned the case against Lifaite to October 4 for trial.