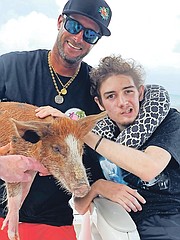 SEVENTEEN-year-old Grayson Richardson is battling a rare type of brain cancer called anaplastic astrocytoma.
About 1,200 children under 19 are diagnosed with glioma (brain tumour) per year in the United States with a fraction of those being astrocytoma. Since being diagnosed Grayson has been a fighter. He has had a combination of two brain surgeries, 44 rounds of chemotherapy and heavy doses of steroid used to keep brain swelling down. Since treatment, his body has changed dramatically and he is completely blind on the right side of both of his eyes, and is now unable to read or speak clearly.
Recently, Grayson's family reached out to the Ministry of Tourism and shared his dream of swimming with the world-famous swimming pigs. Once Minister of Tourism Dionisio D'Aguilar heard Grayson's story, he did everything in his power to make the teen's dream a reality.
"I am touched by this young man's story. In spite of his illness he still takes the time to volunteer and give back in any way that he can. The Ministry of Tourism is excited about the opportunity to share one of the many wonders of the Bahamas with Grayson in the hope of making his days brighter," said Mr D'Aguilar, according to a press release.
The family travelled with Captain Bruce from Da Salty Pig excursion. Captain Bruce described the experience as very rewarding and humbling. "It was a very special day for all of us at Da Salty Pig, as we had the exceptional privilege to meet Grayson and make his dream of swimming with the pigs come true. It was an incredibly touching moment to see his smile when the first pig swam up to him. He was filled with so much joy and happiness."
Grayson's father Flint Richardson said you could see the pure joy on Grayson's face when he heard the news that he would have the opportunity to go to Spanish Wells, Bahamas to swim with the pigs.
"Grayson has been wanting to swim with the pigs for years. It was truly a dream come true for him, in fact for all of us! He truly enjoyed putting his feet in the sand and moving through the beautiful waters. It was such an amazing experience, one our family will never forget. Thank you, Ministry of Tourism for making Grayson's dream come true."