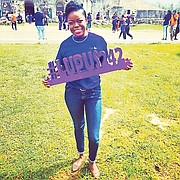 By ALESHA CADET
Tribune Features Reporter
acadet@tribunemedia.net
FAMILY, friends, loved ones and other supporters all gathered last Saturday at the Goodman's Bay Beach for a fun run/walk for Jonique Webb who is battling lupus.
Jonique said her fight against lupus has led her to not only find hope, but to also dust off her shoulders and go full throttle in "beast mode".
"In my moments of excruciating pain and wanting to give up, I ask God to help me bear it all with great strength and bravery," she told Tribune Health.
Jonique is a 2006 graduate of Jordan Prince Williams High School, where she participated in basketball, softball, volleyball and track and field, and was named the best all-around female student. She went on to attend the former College of the Bahamas, from which she received a Bachelor's degree in Business Administration in 2011. After graduation, Jonique joined PricewaterhouseCoopers as an auditor for four years.
It was during this time, in 2012, that traces of lupus were found in her system. A year later, after further consultation, it was confirmed that she was indeed suffering from the chronic autoimmune disease which causes the body's immune system to attack its own healthy tissue. Lupus can cause inflammation throughout the body, including the skin, joints, brain, lungs, heart, blood cells and kidneys.
But despite all her struggles, Jonique has kept her fun, loving and energetic personality, and almost always has a smile on her face.
"My prayers and the prayers of others work, because I am still here fighting daily. Motivation comes from my parents who have supported me and nursed me back to health many times. My grandmother - she is my biggest support - also thinks she is my doctor at times. My village, which includes family, friends, church family and colleagues, keep me laughing during difficult times and remind me that if God brought you to it, He will surely bring you through it," said Jonique.
Jonique, who is currently employed at the Securities Commission of the Bahamas' Risk Analytics and Examinations Department, has not let her sickness keep her down.
She is an active member of her church, Golden Gates Native Baptist, as well as member of the Baptist Sports Council, the Bahamas National Baptist Youth organisation, the Bahamas National Baptist Young Women Association, the Caribbean Baptist Fellowship Youth, and is a founding member and trumpet player of the Bahamas Allstar Marching Band.
"For the most part I try not to let it, but the reality is sometimes lupus does affect my daily life. Some nights I would plan my entire day and in some cases when the pain is too severe I end up in the hospital or have to call in sick due to me not feeling well. As a young woman I have to think about issues that other women my age don't have to think about. I have to eat certain foods, ensure that my fluid intake is correct and so many other little things. Above all, I try to remain focused and push past my physical and emotional fatigue," said Jonique.
For her, living with the disease is very challenging and can be both mentally and physically exhausting. Some days are good, while others are filled with joint pain, swollen feet, and even hospital stays. Jonique said you never know what kind of day you will have and what health challenges you will face when living with lupus.
"It is also is very costly. Medications can average hundreds of dollars per month, frequent doctor visits and eating healthy is very expensive and a great challenge, especially for someone my age who is in the building phase of my life. I think our diet plays a major role in some of the diseases we as a people experience, not just with lupus," she said.
"Lupus is a funny disease because doctors are unable to pinpoint what the cause of it really is. I am not certain how one decreases their chances of getting lupus, but I will say that it is always good to exercise and eat healthy."
She said her recent fun run/walk initiative has definitely been her breakthrough in getting the word out there about lupus after being private about it for so long. With this event, she said, she has broken her silence.
"It was more than a fun run/walk; it was a celebration of life. A celebration of triumph and hope. We had a diverse group of persons that registered, so all age groups were represented. There were health screenings, various types of souse on sale; just an overall good and fun time. Going forward, I will attempt to be as involved as possible with the Lupus242 organisation by supporting their events," said Jonique.