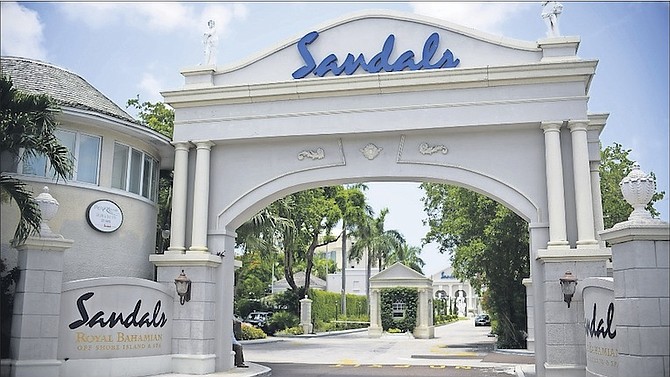 By MORGAN ADDERLEY
Tribune Staff Reporter
madderley@tribunemedia.net 
NEARLY 100 people have been afflicted with a gastrointestinal illness at Sandals Royal Bahamian all-inclusive resort in New Providence, Health Minister Duane Sands confirmed to The Tribune yesterday. 
The Ministry of Health also released a statement advising the public that both guests and staff have reported "experiencing gastrointestinal symptoms of nausea, vomiting and diarrhoea". 
According to Dr Sands, just under 100 people have been affected, the majority "over the last four or five days". 
The ministry was notified of this health concern on August 7, the statement revealed. Since then, teams from the Ministry of Health and Department of Environmental Health have made "multiple visits" to the property. 
According to the statement, these teams "can report that recommended prevention and control measures have been or are being implemented by hotel management.
"These interventions are consistent with local and international guidelines. 
"The ministry can confirm (based on review of records and ongoing reporting) that both staff and visitors have experienced symptoms," the statement continues. "Preliminary data and symptomatology are strongly suggestive of a viral illness which is usually self-limited and uncomplicated."
The ministry also dismissed any connection between this incident and the recent outbreak of conch poisoning cases.
It added many of the cases of gastrointestinal illness were treated by the hotel's healthcare providers and people who required medical attention at local hospitals have been treated and released. 
"As of today, the number of cases has decreased significantly. Guests and staff have been advised on the importance of regular hand hygiene, either with soap and water or with alcohol containing sanitisers. 
"The Ministry of Health is satisfied that all required precautions and interventions to control the situation are being implemented. We are not aware of any other cluster of cases currently," the statement ends. 
When asked if the Department of Environmental Health had been making regular checks before these reports, Dr Sands pointed to a recent session held a few weeks ago with representatives from all the major hotels, some of the "smaller facilities" and people from the Ministry of Tourism. 
He said they were updated on the necessary public health precautions to be taken, the reporting mechanisms, and went through "all of the Environmental Health and Ministry of Health required maintenance and reporting standards."
"This is an ongoing activity," Dr Sands said. "We've had teams in and out of hotels and guest houses throughout the Bahamas over many, many months. 
"And this is just a part of the process the public health is involved in order to avoid any problems with whatever challenge." 
On the review website TripAdvisor, some guests vented frustration over food poisoning claims, some from before this month.
On April 16, one reviewer posted: "Wrong room. Homeless for a day during room change. Food poisoning. Non-apology from management." 
His post continued: "We went to the island at 10am. At 2pm our room had not been changed yet. We were hungry so we ordered from the pool-side restaurant and got food poisoning. At 8pm we finally got into our room."
On August 13, a reviewer from Massachusetts posted: "My now husband and I just returned from the resort yesterday. We traveled to Sandals for our wedding last Saturday which almost didn't happen as I got sick with whatever virus/flu that is going around the resort. I was bed ridden for almost two days with vomiting, severe stomach cramping, back and body aches and chills. The nurse came to my room and would not confirm there was something going around stating there were no 'confirmed cases'. I asked her what am I then? No response! Just gave me some orange pill and left. Needless to say, this made for a terrible wedding vacation!" 
Attempts to speak with the general manager of Sandals Royal Bahamian went unanswered up to press time.