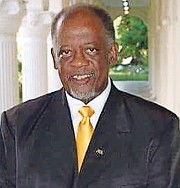 By BRENT STUBBS
Senior Sports Reporter
bstubbs@tribunemedia.net
LONG time Grand Bahamian softball executive Greg Christie, a class of 2003 World Softball Hall of Fame inductee, died on Monday morning at the Princess Margaret Hospital as a result of heart complications.
The former media consultant, 70, was a former secretary general and president of the Bahamas Softball Federation and was inducted into the International Softball Federation's World Softball Hall of Fame in 2003 with coach Sidney 'Bobby Baylor' Fernander and player Dudley 'Douggy' Smith.
Christie, one of 18 Bahamians inducted into the Hall of Fame of the WBSC, formerly known as the International Softball Federation, was also inducted into the BSF and Bahamas Hall of Fame in 2002.
Yesterday, upon hearing of his death, condolences poured in from around the world as the president and other officers from the World Baseball Softball Confederation - Ricardo Facarrai, Don Porter, Dale McMann, Kevin Quinn and Tommy Velesquez - as well as from associations in Jamaica, Turks & Cacios Islands, Barbados, Curacao, St Martin, British Virgin Islands, Aruba and Belize.
Condolences
Here at home, a number of sporting dignitaries expressed their condolences on the passing of Christie, who will be remembered as one of the brightest minds as an administrator, who took careful consideration to every minor detail that others didn't think was necessary.
"It was during my sojourn as a softball athlete (in Grand Bahama), I came to know Greg in a more intimate way and quickly learnt he was the brightest of the lot and would pay attention to every iota of detail," said Rommel Knowles, president of the Bahamas Olympic Committee and a 2013 ISF Hall of Fame inductee with Oria 'Big O' Wood.
"For the few months, he was my coach. I learned what made Greg tick. He was a perfectionist. He expected a team of professionals to win softball games not withstanding for most of it was a time to let their hair down away from their offices, despite not being the most talented softball team."
It was during that time that Knowles said softball was at its peak and players as well as the fans looked forward to the competitive national championships and the All-Star Classics held once a year.
"As I reflect on our days together, I think I was being mentored for the role I now play in sports in our beloved country," said Knowles, who also at time served as president of the BSF and the Eleuthera Softball Association. "I learnt showmanship from Neko (Grant), attention to details from Greg (Christie) and working hard from Churchill (Tener Knowles)."
When he became the BSF president in 2000, Knowles said it brought an end to the era of Churchill, Tener-Knowles, Grant and Christie, but the transition was filled with good and bad emotions as the dreadful politics of sports separated them for a brief time.
"Greg and I never became as close as we once were, but from a distance, I had a profound admiration and respect for this quiet, but resourceful leader," Knowles stated. "Greg was the one singular person that made me stay on the top of my game as it were, although rivals. I believe I am a product of their dynasty. Whilst the baton was not officially passed, it became mine none the less."
Burkett Dorsett, a former president of the BSF and now the president of ECASC, the English speaking association of the World Baseball Softball Confederation, said Christie was indeed a trailblazer for softball in the Bahamas and the Caribbean.
"His death leaves an extremely big void in the future of the development of softball in our region," said Dorsett, of Christie, who up to the time of his death was the secretary general of the ECASC.
"He was indeed a dedicated, committed and devoted Bahamian sports icon, a great sports warrior in our country and a true patrioat. Greg's 40-plus years in the administration of softball is a testimony to his willingness to assist all who can in contact with him and wanted his advice."
Dorsett, who, along with coach Godfrey 'Gully' Burnside, was the latest ISF Hall of Fame inductees in 2017, called Christie a "community builder," who went out of his way to see that things in his environment were of a standard that would befitting one and all.
"On behalf of the World Baseball Softball Confederation, our president Ricardo Facarrai and Tommy Velesquez, chairman of the softball division of the WBSC, we offer our condolences to the family of the late Greg Christie."
As a long-time friend and collegiate in Grand Bahama, businessman and former BSF president and fellow ISF Hall of Famer Churchill Tener-Knowles said they first became acquainted in 1970s on the softball field.
"We did a lot of traveling together with the federation's national teams and locally throughout out the islands and particularly getting things done in Grand Bahama," Tener-Knowles pointed out. "We were even involved in baseball for a while.
"But Greg was very active in softball. He was also active in the international scene, so we had some good times traveling around the world and to the Family Islands. We also started the National All-Star Classic back in the 1980s, which was one of the highlights of softball."
Tener-Knowles, the second Bahamian to be inducted into the ISF's Hall of Fame in 1991, said Christie will certainly be missed by the Grand Bahama community and softball in general because he made a valuable contribution.
Also from Grand Bahama, Yvonne Lockhart, chairman of the Rising Stars, added: "We are saddened to learn of Greg's passing. Greg was truly our hero. He was the bedrock from the inception of our organisation, always advising and available to assist when called upon.
"He was one of a kind, irreplaceable and will be missed. Eternal rest grant unto him oh Lord and may the perpetual light shine upon him. Our deepest sympathy to the family."
Christie began his career in journalism in 1970, and worked at the Freeport News as its Editor and Special Projects Officer. Over the years, he also headed his own public relations company, GregChris.
He has also served as an executive of the Lion's Club, Freeport, Grand Bahama, and a member of the Knights of Columbus organisation.
He was quite active in his parish at Mary Star of the Sea Catholic Church in Grand Bahama.
Christie served as a Consultant to BIS on two separate occasions, firstly between 2002-2007 and again between 2013 and 2018.