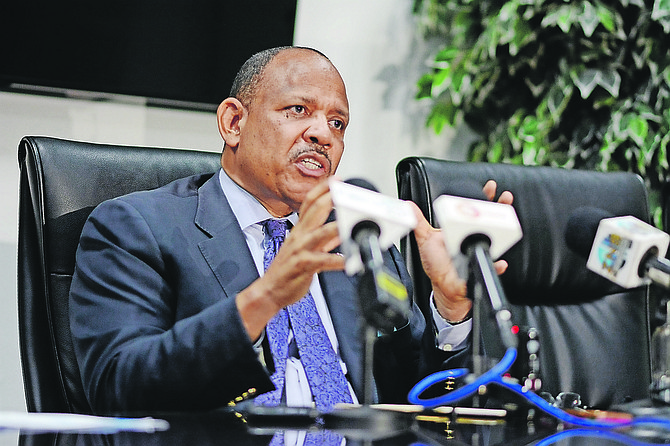 By AVA TURNQUEST
Tribune Chief Reporter
aturnquest@tribunemedia.net
THE Princess Margaret Hospital's Accident and Emergency Department collected less than $200,000 in revenue for services provided in 2017, according to Health Minister Dr Duane Sands, who said the figure amounted to an average bill of just $3 per patient.
Dr Sands confirmed the Public Hospital's Authority antiquated billing system could not track medical charges in real time, and was entirely dependent on manual records - an environment that has resulted in an estimated loss of $40m in potential insurance claims per year.
A source told The Tribune in the years 2012 to 2017 as much as $251 million worth of services provided by Princess Margaret Hospital may not have been billed. However, Dr Sands said he had no information on that figure.
Dr Sands said the government was currently engaged in multiple and simultaneous initiatives, which included strengthening the billing and collection programme but also revising the fee schedule.
"The IT system that currently exists is strictly a medical record system. It may be tied to the laboratory or ICE system but it is certainly not connected to any other charging ability," he said.
"It certainly won't be automatically recorded so very expensive items may be used which may or may not be recorded on a charge master. So it's impossible in real time to have a bill so you can't charge the patient and in terms of insurance charges, you lack ability to verify that what you're billing is real."
Dr Sands also said: "So it speaks to a lack of capacity and we estimate, and there is very little way to verify this number, except to say fairly reliable sources would suggest that it's true there may be as much $40m per year in insurance claims we don't pursue.
"That's at least four times what we currently collect across the system – the total revenue of PHA is around $10 million. If we are able to collect that revenue - and this is before you go after cash paying persons who are paying the gazetted fees – you can increase your revenue legitimately by 400 percent."
Dr Sands said the PHA has received complaints from insurance companies who acknowledge the need to pay claims but have either not received the bill, or it's not coded properly, or lacks supporting documentation.
The billing system also presented significant challenges for the management of medical supply inventory, he said.
"So 'John Brown' is in the Intensive Care Unit and IV fluid bag goes up, it may or may not be recorded. In the operating room, certain expensive devices may be inserted or used in a patient, some of them causing hundreds or thousands of dollars and the charge slips are issued manually.
"The possibility of loss is significant," Dr Sands continued, "but we also have very limited ability to protect from shrinkage.
"It's less an issue of drug shortages, than disposable medical supplies. For example, some of these clips that are used for invasive procedures are disposable kits but cost hundreds of dollars.
"It's not uncommon for health staff to be searching around the hospital for such a kit because there's none on the ward but no record it has been used at any given time, so you literally have staff walking around the hospital looking."
The health minister raised concerns over $782 million in unpaid bills on the books at PMH since the late 1980s during his recent budget contribution, along with the limitations of the Billing & Medical Coding Department.
He was contacted by The Tribune to provide an update on the impact of the understaffed department - said to have been reduced from a complement of 50 to five - on revenue collection.
Yesterday, Dr Sands said: "This is a serious challenge of capacity and in the absence of an IT system which is able to relate the patient record to billing, to pharmacy, to imaging etc, then it's just a random occurrence that you're going to be able to get a reasonable assessment of charges. You may have been able to do a reasonable task a few decades ago but if you see we now have accounts receivables of more than $780 million then clearly we are not doing a good job.
"We see just under 60,000 patients per year at Accident and Emergency," he continued, "and in the last fiscal year we collected less than $200,000 for services provided for 2017. That is about $3 per person, these are people suffering from strokes, heart attacks, gunshot wounds, so that gives you an idea of how dismal the collection is. It basically means we don't even pay the cost of the staff to collect that money."
Dr Sands added: "Part of it is a system which is not geared to adequately pursue revenue, but another part of it is a cultural unwillingness to pay for medical services and a system that exempts huge segments of the population because they are either too young, too old, or civil servants."
Dr Sands explained the benefit for civil servants was created before the government began providing health insurance for its workers but now barred the public hospital from cashing in on the $75 million Bahamian taxpayers pay for those insurance premiums.
Yesterday, Dr Sands stressed the issue was not partisan but systemic.
"This is not a PLP or FNM problem," he said, "this is a systemic problem with inadequate capacity, as well as there has been no political will to fix it. When you have plenty of money and can borrow, the political will is to maintain the view that healthcare is free.
"We have a serious problem fundamentally," Dr Sands said, "what we have to do is bring billing and collections of our facilities in the 21st century. This is not about making Ava pay more money, this is about ensuring if Ava has insurance and is a private patient, that we can send a bill so the hospital can benefit from that service rendered.
Dr Sands said: "So that it can provide new equipment or maintain existing equipment - if you're providing a service you have to pay for it, and where is the money coming from? You can't provide a service you can't pay for, either you raise the fees, reduce services or simply don't provide the service."