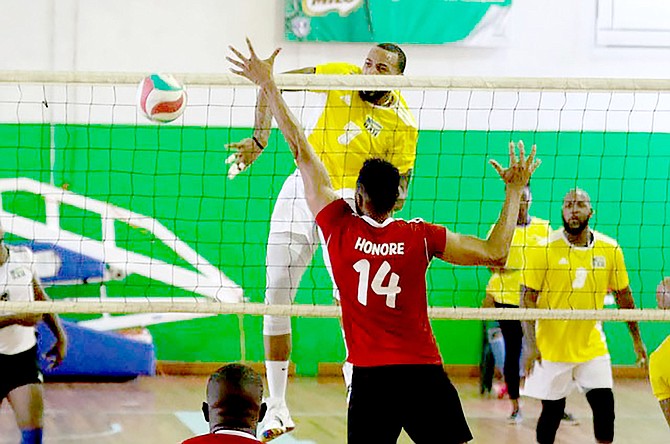 By BRENT STUBBS
Senior Sports Reporter
bstubbs@tribunemedia.net
The Bahamas men's national volleyball fell short in their bid to regain the CAZOVA (Caribbean Zonal Volleyball Association) Championships that they last held in 2012, losing to host Suriname in the championship game on Tuesday night at the Ismay Van Wilgen Sporthal in Parimaribo, Suriname.
Team Bahamas, coached by Lloyd Davis and Kurkwood Greene Sr, suffered their second consecutive loss in the tournament to the gold medal winners, this time in the final, 25-20, 13-25, 25-22, 25-23, in a match that lasted one hour and 43 minutes as they settled for the silver.
Two days ago Suriname handed the Bahamas their first loss in a marathon 42-40, 23-25, 21-25, 25-22, 15-11 match that took 2:29 to be completed.
Renaldo Knowles was the Bahamas' best scorer with 15 points, including 12 spikes. Byron Ferguson also had 12 spikes with two blocks, while Je'Vaughn Saunders also came up with a pair of blocks. Keven Sporkselde led the home team with 20 points as they secured the five setter that last for almost three hours.
Other members of Team Bahamas were Princtanique Wilson, Kyle Wilson, Jamaal Ferguson, Donavan Wilmott, Eugene Stuart, Tonny Simon and Shonari Hepburn.
Earlier in the day, the Bahamas advanced to the final by dethroning the defending champions Trinidad & Tobago, 26-24, 22-25, 22-25, 25-20, 15-12, in a match that was originally supposed to be played on the first day of competition. But, after the Bahamas were delayed in getting to the tournament because of financial difficulties, a decision was made to play the game on the final day of competition.
Trinidad & Tobago, winners of the last two and three of the last four editions of the tournament, played Barbados for the bronze medal.
In their playoff match-up, the Bahamas had to go through their second five setter in the tournament, but only trailed once, at 6-5, against Trinidad & Tobago before prevailing with a hard fought victory in 113 minutes.
Wilson, the team captain, once again led by example with 19 points and said it was revenge for the Bahamas after losing to Trinidad & Tobago eight years ago in the semifinal. Trinidad went on to secure the gold that year.
"We played an amazing game this morning," added coach Davis. "I am so proud of this team in what we are doing down here. It's us doing battle against the odds."
The Bahamas opened the tournament with a 25-20, 25-23, 25-22 sweep over Barbados. After losing the first encounter to Suriname, the Bahamas bounced back and knocked off Haiti in four sets 25-20, 22-25, 25-21 and 25-23 before closing out the round robin with their 26-24, 22-25, 22-25, 25-20, 15-12 win over Trinidad.